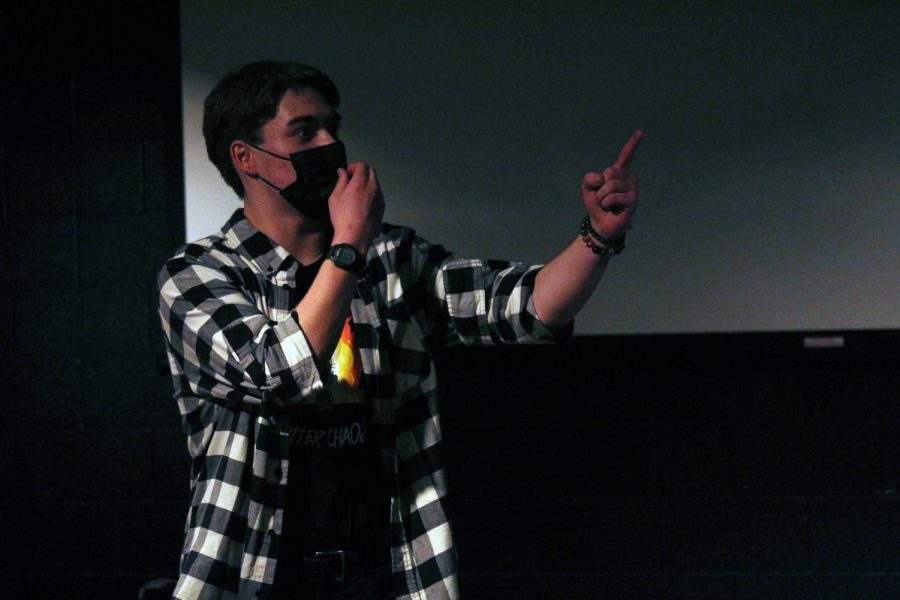 Javin Smith
Thespian Troupe 941 held the first Coffeehouse of the year last Friday, where students can show off talents and interact with others.
"You can do whatever you want and everyone is super inclusive," Mime and Improv Assistant Elizabeth Bean, sophomore, said.
Due to restrictions last year, Thespians wasn't able to hold the Coffeehouse. This year, students are excited to be back and holding fun events such as this.
"It was good to finally be back in person. Last year, I had to resort to collecting small animals and performing for them instead," senior Mime and Improv Leader Emmett Spaw said.
During the event, students volunteered to tell a personal story. Senior Representative Ryan Ward started the storytelling and more students offered up their own stories such as a stranger trying to steal someone's cat or making fun of the doctor being a Scorpio while getting stitches in their chin.
A staple game for Troupe 941 is the improv game The Dating Game. A contestant is chosen from the crowd, and sent out of the room. Three members of Thespians are assigned a role — whether it be a person, object or idea — that are suggested by the crowd. The contestant is brought back in and has to guess through a series of questions what each "romantic interest" is.
"Emmett started it last year and it does really well because it involves audience participation," Bean said. "The people involved also love to be part of the game, so it's fun for everyone."
Spaw ended up starting the game due to some "encouragement" which resulted in promotion of improv.
"My Improv deputy threatened me into doing so. I will now shamelessly promote improv," Spaw said.
For Troupe 941, the Coffeehouse is a great way to interact with the rest of the members, as well feel comfortable with themselves. The environment of the Coffeehouse is laid back, encouraging and judgement free.
"Everyone doesn't really care what you do so it's just relaxed and fun," Bean said.
The Coffeehouse is a monthly event, and the members are excited to get back into it and do it all over again.
"It's something I look forward to every month," Bean said.