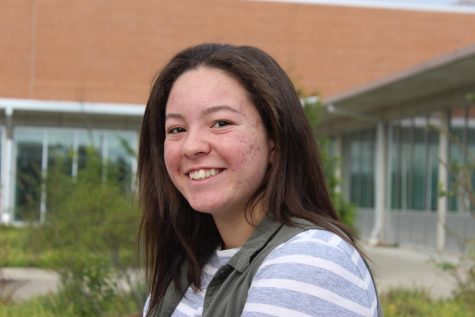 Brianna Carmack, sophomore, is the type of person who just wants to make someone's day go from terrible to great.
Carmack was born in Lancaster, California and moved to Manhattan when she was three years old. She has always had a fond interest in writing, photography and designing, so, as a freshman, she took the intro to journalism class. This year, she decided to join publications, eventually taking over opinions.
When she isn't working for The Mentor opinions, Carmack also enjoys being in math classes, as well as chemistry. She is enthusiastic about trying out for the basketball team this year. In her freetime, she loves to watch her favorite show on Netflix, "The Office."
After her high school career Carmack hopes to study journalism at a university in Missouri or Texas.
Brianna Carmack, Opinions Editor
Aug 12, 2019

Cross Country begins new season, free to join

(Story)

May 13, 2019

Senioritis: One academically deadly disease

(Story)

May 07, 2019

'Extremely Wicked' shows power of manipulation through amazing performances

(Story)

May 06, 2019

Boys Golf strides to get better for upcoming tournaments

(Story)

May 06, 2019

New transgender guidelines proves impactful at MHS

(Story)

Apr 29, 2019

Vaccination is necessary, disease easily preventable

(Story)

Apr 29, 2019

Uncomfortable class environment prevents participation among students

(Story)

Apr 15, 2019

Options for prom outfits

(Story)

Apr 15, 2019

Boys golf wins first home invitational

(Story)

Apr 15, 2019

Two-year experience at MHS prevents diverse race for president

(Story)

Apr 09, 2019

Student Council hosts second blood drive of school year

(Story)

Apr 08, 2019

Student makes custom made boutonnieres and corsages

(Story)

Apr 08, 2019

MHS has appropriate mental health resources in place, needs better awareness

(Story)

Apr 08, 2019

Students go to K-State for many opportunities after high school

(Story)

Mar 27, 2019

'Five Feet Apart' powerfully signifies vulnerabilities of cystic fibrosis

(Story)

Mar 25, 2019

Club financial status inefficiently communicated

(Story)

Mar 04, 2019

Girls bowling finishes season by placing fourth at State

(Story)

Mar 04, 2019

MHS needs approachable, communicative principal

(Story)

Feb 10, 2019

Bowling falls behind by six points in home meet

(Story)

Feb 09, 2019

Scholars Bowl Takes Home State Award for Winning Championships

(Story)

Feb 05, 2019

Bowling places in the top three for last few tournaments

(Story)

Feb 04, 2019

 Scholars Bowl places first at regionals

(Story)

Jan 28, 2019

Bowling places first at home meet

(Story)

Jan 28, 2019

Mr. MHS succeeds in making for great show

(Story)

Jan 28, 2019

Misled information in media creates problems for everyone

(Story)

Jan 28, 2019

Scholars Bowl places second in home meet

(Story)

Jan 15, 2019

Bowling places at Topeka West quad

(Story)

Jan 15, 2019

Increased security has potential for preventing drug use of teens

(Story)

Dec 11, 2018

Ignorance causes hostility for LGBTQ+ community

(Story)

Dec 04, 2018

School emergency drills should be more randomized

(Story)

Dec 04, 2018

Recent Varsity tournament loss from overconfidence upsets Scholars Bowl

(Story)

Dec 03, 2018

Bowling tryouts begin for a new season

(Story)

Nov 15, 2018

Season's Greetings

(Story)

Nov 13, 2018

Media literacy proves beneficial for everyone

(Story)

Nov 06, 2018

Scholars Bowl comes out undefeated in their first meet

(Story)

Nov 06, 2018

Hate speech versus a hate crime

(Story)

Oct 29, 2018

Upcoming bond referendum will make a positive impact on the district

(Story)

Oct 29, 2018

MHS students go to KU, compete in programming, engineering contest

(Story)

Oct 29, 2018

Choir rocks the house with amazing performance

(Story)

Oct 02, 2018

Dance team wows MHS with pep rally performance

(Story)

Sep 27, 2018

Students take interactive trip to K-State Greenhouse

(Story)