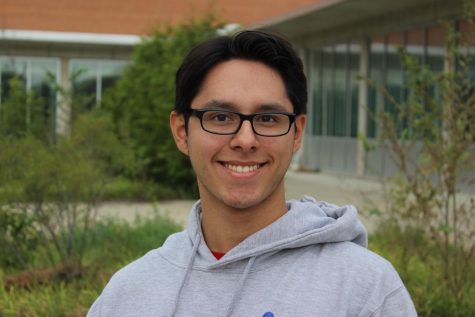 Javi Mercado, a Manhattan High senior, has been working for The Mentor for almost a year. He first got into publications through the class 21st Century Journalism, and eventually came to work for publications as a staff photographer.
Mercado first found his passion for photos as a young kid who loved Spiderman, idealizing Peter Parker's photography work. This continues to inspire him in his photography work.
Mercado is now in Project Management, working to establish a new podcast for publications. In the meantime, he continues to produce photos and stories for publications.
"I am lucky enough to have taken this class, because I know Spiderman would."
Javi Mercado, Staff Photographer
Feb 04, 2019

New York bill demolishes conservative morals

(Story)

Oct 29, 2018

'A Star is Born' exceeds expectations

(Story)

Sep 27, 2018

Double standard or public meltdown?

(Story)

Sep 17, 2018

Kaepernick Nike ad bad, disrespectful to public

(Story)

May 24, 2018

Artist of the Week: Claire Todd

(Story)

May 08, 2018

Artist of the Week: Aurora Mercado

(Story)

May 08, 2018

One and Done rule needs to be over

(Story)

Apr 26, 2018

Artist of the Week: Elijah Emory

(Story)

Apr 17, 2018

Artist of the Week: Ashley Savage

(Story)

Apr 10, 2018

Artist of the Week: Emma Wendt

(Story)

Apr 03, 2018

Artist of the Week: Kristine Gevock

(Story)

Mar 06, 2018

Artist of the Week: Raegan Poulson

(Story)

Feb 06, 2018

Artist of the Week: Duru Dogan

(Story)

Feb 06, 2018

Balancing job, education proves difficult

(Story)

Feb 01, 2018

Artist of the Week: Anthony Rodrigues

(Story)

Jan 25, 2018

Artist of the week: Kendra Geisbrecht

(Story)