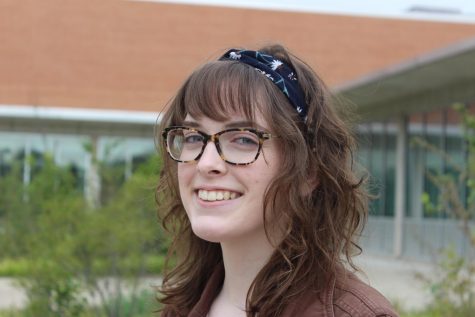 Meredith Comas is the editor-in-chief of the The Mentor Online. Currently a junior, she joined staff her freshman year after taking the intro to journalism class. Comas' sophomore year on staff, she was the opinions editor. She loved being able to write weekly editorials, but is looking forward to working with online media since journalism is heading that direction.
Comas is very involved in the school. She is in several clubs including Environmental Science Investigations club, French club, Quill and Scroll, and National Honors Society. She is also a Student Council representative for the junior class and chair of StuCo Public Relations for the second year in a row.
Reading is one way Comas enjoys spending her time. She has read "To Kill A Mockingbird" eight times and "Pride and Prejudice" twice. These books are among her personal collection of over 500 books.
Movies are also another way she enjoys spending her time. Two of her favorites are "Pride and Prejudice" and "Dead Poets Society."
"I can recite that movie from memory," Comas said about the 2006 Pride and Prejudice by Focus Features Films.
Sketching, playing the flute and poetry are also other interests of hers.
Comas has had a couple journalistic honorable mentions including a mention at KSPA State Competition for Multimedia Storytelling and a mention at JEA/NSPA National Conference for Opinion/Editorial writing.
Comas is looking forward to another year as a journalist at MHS.
"I'm really excited for this year and I really hope that … it goes well."
Meredith Comas, Online Editor-in-Chief
Aug 12, 2019

Advice to Seniors

(Story)

Aug 12, 2019

Welcome to the pursuit of truth and education

(Story)

May 13, 2019

Forensics competes in The National Invitational Tournament of Champions

(Story)

Apr 29, 2019

Student group joins to compete in Economic Challenge

(Story)

Apr 29, 2019
Apr 24, 2019

Envirothon team advances to nationals

(Story)

Apr 15, 2019

Foodie's guide to prom night success

(Story)

Apr 15, 2019

Forensics take home success at National Qualifiers

(Story)

Apr 08, 2019

New Billie Eilish album a tantalizing taste of artist's introspection

(Story)

Apr 08, 2019

Degrees granted by genies are an illusion of privilege

(Story)

Apr 08, 2019

Forensics heads to National Qualifiers hopeful

(Story)

Mar 24, 2019

Forensics heads into mid-season with national qualifications

(Story)

Mar 04, 2019

Forensics maxes state qualifications, anticipates state

(Story)

Feb 15, 2019

Science Olympiad takes first at regionals, heads to state

(Story)

Feb 04, 2019

Forensics continues success in early season

(Story)

Feb 04, 2019

Say no more to enabling behaviors

(Story)

Jan 28, 2019

Forensics kicks off season with success in first tournament

(Story)

Jan 15, 2019

Make your life mean something

(Story)

Jan 15, 2019

Debate end season with varsity highs from junior pairs

(Story)

Dec 11, 2018

Debate succeeds as district national qualifiers

(Story)

Dec 11, 2018

Class, department changes to occur in 2018-2019 year

(Story)

Dec 04, 2018

New Little Mix album empowering, expected iconic

(Story)

Dec 02, 2018

Debate heads into state with season wins

(Story)

Nov 12, 2018

2018 Midterms sweep Riley County, prove historic

(Story)

Nov 12, 2018

Debate struggles through week's tournaments, battles "untraditional" opposition

(Story)

Nov 02, 2018

JEA National Contest Fall 2018

(Story)

Oct 29, 2018

New Science Cafe introduces scientific discussion, student participation

(Story)

Oct 29, 2018

Manhattan High debate sweeps the competition season

(Story)

Oct 25, 2018

Debate continues winning streaks at weekend tournaments

(Story)

Oct 25, 2018

Kansas midterm elections approach

(Story)

Oct 02, 2018

Science Explorers introducing new club content to The Mentor

(Story)

Oct 02, 2018

Student voices must be heard regarding education funding

(Story)

Sep 27, 2018

MHS Debate starts season of well with Washburn Rural tournament

(Story)

Sep 27, 2018

Kobach's plan to decrease school administration not a solution to education budget crisis

(Story)

Sep 17, 2018

Constitutional rights are respected, activism needed to bring attention to individual violations

(Story)

Sep 17, 2018

Manhattan High jam-packs the month of September

(Story)

Aug 24, 2018

Let your stories be heard, Manhattan High.

(Story)

May 24, 2018

College Freshman Essentials help make life a little easier

(Story)

May 24, 2018

Manhattan Arts Center Summer Programs offer summer activities, fun

(Story)

May 08, 2018

Student Council constitution reform good, beneficial to students

(Story)

Apr 26, 2018

5SOS title track 'Youngblood' paves way for new album

(Story)

Apr 26, 2018

Unpopular Policy: Administration policy on school walkout reasonable, not restrictive of students' rights

(Story)

Apr 25, 2018

Participation statistics show slight lack of student diversity, wide-range appeal to student interests

(Story)

Apr 25, 2018

Manhattan High FCCLA takes third at state, receives scholarships

(Story)

Apr 17, 2018

Facebook founder in hot water following scandal

(Story)

Apr 17, 2018

K-State UPC behind Jonas appearance

(Story)

Apr 17, 2018

NCAA caught amidst fraud scandal

(Story)

Apr 10, 2018

Certain activities can reduce stress levels

(Story)

Apr 10, 2018

Fake news, corporate lies

(Story)

Apr 10, 2018

Science Olympiad takes third at state, ends 2018 season

(Story)

Apr 03, 2018

Manhattan High culinary students attend ProStart competition, gain experience

(Story)

Apr 03, 2018

School walkouts supporting end to gun violence effective, showcase student voices

(Story)

Mar 12, 2018

The Harlem Renaissance: A Time of Black-American Art

(Story)

Mar 06, 2018

Teen alcohol abuse problematic despite lower numbers, relevant in Manhattan

(Story)

Mar 01, 2018

Online Sexual Harassment

(Story)

Feb 06, 2018

Freshman Alice Le takes over Science Olympiad

(Story)

Feb 06, 2018

Kansas School funding needs addressed, Colyer to help

(Story)

Feb 01, 2018

Recent steps toward justice for women

(Story)

Feb 01, 2018

Time to end Hazelwood restrictions

(Story)

Jan 23, 2018

Martin Luther King Jr. day needs to reflect his legacy

(Story)

Dec 19, 2017

Lucia, Carlos Gonzales say farewell to Manhattan High

(Story)

Dec 19, 2017

Entertainment not only factor in increasing teen violence

(Story)

Dec 12, 2017

Manhattan High journalism makes trip down to national conference

(Story)

Dec 12, 2017

MHS mascot recommendation shows need for communication between administration, student body

(Story)

Dec 07, 2017
Dec 07, 2017

Manhattan High FCCLA receives high recognition at national cluster meeting

(Story)

Nov 28, 2017

How to prepare for uncomfortable family gatherings

(Story)

Nov 14, 2017

Manhattan racism needs addressed

(Story)

Nov 10, 2017

Frank Prentup: the history of our Indian mascot

(Story)

Nov 09, 2017

Youth votes matter

(Story)

Oct 30, 2017

Kansas State racism issue needs addressed

(Story)

Oct 17, 2017

Students seek communication addressing blackout controversy

(Story)

Oct 02, 2017

The best bite of the Little Apple

(Story)

Oct 02, 2017

Fall Pep Rally execution inefficient, improvements needed.

(Story)

Sep 21, 2017

Coffee, books and peace: quiet hangouts in MHK

(Story)

Sep 19, 2017

FCCLA rush week attracts new members, supports club spirit

(Story)

Sep 19, 2017

Moving on too soon, effects of 9/11 still felt

(Story)

Sep 11, 2017

DACA rescind wrong decision, program needs reform

(Story)

Aug 29, 2017

Taylor Swift's new single dark, needs work.

(Story)

Aug 28, 2017

Rape culture is real, alive in Manhattan

(Story)

Aug 17, 2017

Join the discussion, let your voice be heard

(Story)

Aug 17, 2017

Students don't use provided resources; Administration needs to improve communication with student body

(Story)

Aug 17, 2017

Clubs attend conferences

(Story)

May 15, 2017

Students use music to help focus, memorize facts

(Story)

May 15, 2017

Project Graduation provides safe space for student celebration

(Story)

May 15, 2017

Harry Styles' new album rocks the music world; establishes new musical reputation for former boy band star.

(Story)

Apr 17, 2017

Freshman boys Envirothon team takes fourth at regionals, looks forward to state.

(Story)

Apr 12, 2017

School shooter — what to do

(Story)

Apr 03, 2017

Dare to leave behind the filters

(Story)

Apr 03, 2017

MHS Science Olympiad competes at state, places third

(Story)

Mar 16, 2017

Artist of the Week: Bella Stark

(Story)

Mar 14, 2017

Field trip educates culinary students

(Story)

Feb 28, 2017

Music Festivals finally here

(Story)

Feb 28, 2017

PSAT reform makes MHS history

(Story)

Feb 23, 2017

Schools need to stop limiting the arts

(Story)

Feb 21, 2017

Elective Fair informs incoming students, proves beneficial for existing MHS elective groups

(Story)

Jan 31, 2017

Red carpet trends: Everything old is new again

(Story)

Jan 24, 2017

Circus animal treatment cruel, unethical

(Story)

Jan 24, 2017

Women's March spreads message of equality, fights for justice.

(Story)

Jan 20, 2017

Circus animal treatment, cruel and unethical

(Story)

Dec 19, 2016

Goodbye, 2016. Hello 2017.

(Story)

Dec 19, 2016

Trending Timeline

(Story)

Dec 19, 2016

Debate competes at four-speaker regionals

(Story)

Dec 12, 2016

'Scrappy Little Nobody' a success

(Story)