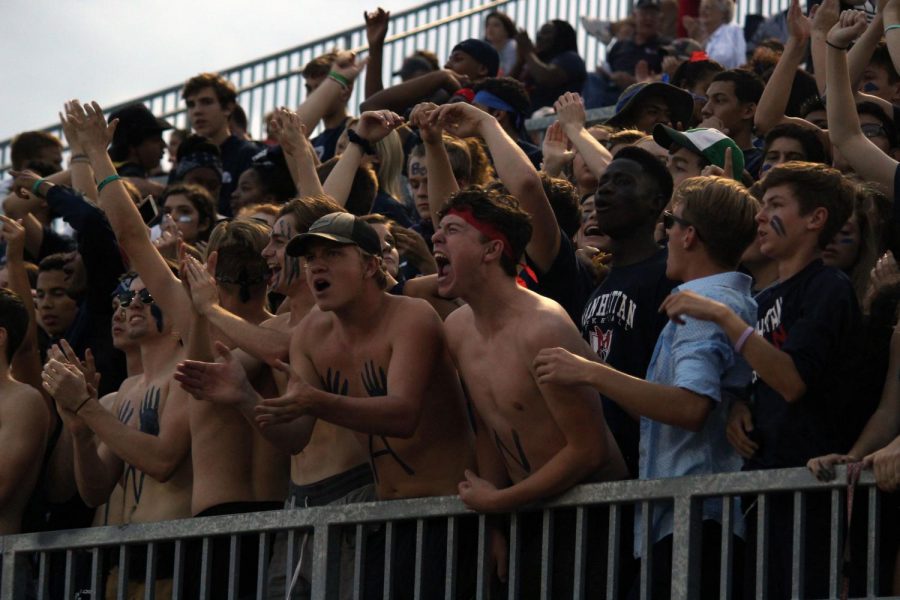 Silver Trophy stays, league title clinched
October 12, 2017
As senior Nik Grubbs came around the outside of the offensive line, there was one thought in his mind: keep chasing.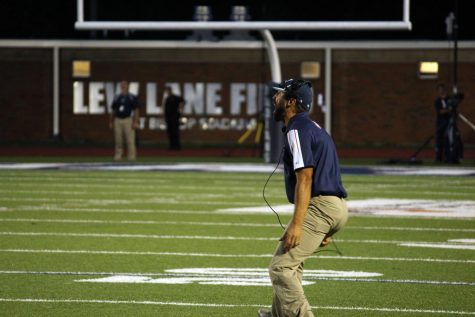 "Coach [Weston] Moody would always harp on backside pursuit," Grubbs said, "and so would all of our coaches, and so I just kept on running and then odds just went in my favor, and I just hit [Junction City junior quarterback Rooster Adams], and out went the ball."
Grubbs' sack-fumble came at an opportune time, helping to turn the momentum in Manhattan's favor. The Indians (5-1, 5-1 Centennial League) would keep that momentum, turning it into a 42-12 victory over rival Junction City (3-3, 3-3 Centennial League) to claim the Silver Trophy and a share of the league title.
"It feels great," senior Andrew Sorenson said. "It's exactly what you want to do, just come out and beat JC. We have usually three goals going into the season: beat JC, win league and win state. So that feels pretty good, knocked two of them off in one game."
Neither defense was able to make a stop early. Junction's run game helped keep the game tight, as the teams traded touchdowns to start the game.
"We tried, I think, three different things," senior Jalin Harper said. "We went to the bench, and [coach] was like, 'Alright, let's try this,' and we did it, and then it was like, 'Alright, that's not working, well, let's change it a little bit,' and then we changed it."
The momentum would begin to shift in MHS' direction on the next drive, as senior Talon Claussen connected with junior Jaylynn Liggons for a 33-yard pickup. Though Claussen under-threw the ball, Liggons tracked the ball in the air and made the catch.
"That was a big play," head coach Joe Schartz said. "What a phenomenal effort by Jaylyn Liggons to layout and catch that ball, kept that drive going, and helped us get points."
Junior Kevontae McDonald closed the drive with a touchdown on fourth down to push the lead to 21-12. It was McDonald's third touchdown of the game.
McDonald finished the game with 111 yards on 21 rushes. Claussen added 68 yards on 11 rushes, and sophomore Isiah Childs ran for 43 yards on eight attempts.
McDonald's night helped the Indians jump out early on Junction.
"He came a long way from where he was at the beginning [of his career]," Claussen said. "He's something special, he makes plays that you wouldn't believe, just breaking tackles. I remember games where he's pulling people by pulling on his jersey, he's a great runner."
The offense had success running thanks to the offensive line.
"We're just getting off the ball and blowing the linemen back and getting the linebackers," Sorenson said, "and that lets [the runners] run free."
Grubbs and the defensive line didn't let the offense get all the credit though, as Grubbs' sack-fumble helped turn the tide in Manhattan's favor. MHS capitalized on the fumble, as Claussen went on a 26-yard scramble, weaving in and out of defenders, to put the Indians up 28-12.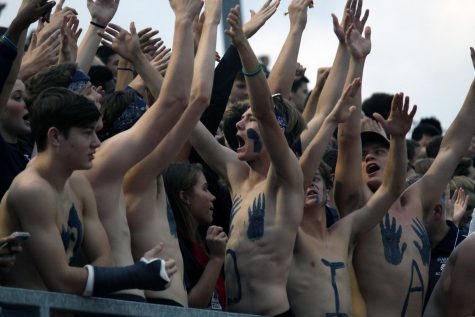 "Whenever a defense can make a turnover, get the ball back to the offense, it just gets everybody going crazy," Claussen said. "It pumps the defense up, pumps the offense up, pumps the sideline up, the crowd, everybody, just means a lot."
Junction began to grind out a drive with less than two minutes in the first half. The Blue Jays made it down to the 40-yard line before disaster struck. A fumble was picked up by Harper, who returned it 60 yards for a touchdown.
"It was just awesome," Harper said. "The momentum was rolling, and we were having a good time and things were just happening in our favor."
Schartz believes that was the turning point of the game.
"What a great offensive play," Schartz said. "Anytime that you can create a fumble and just the timing of it, because they had a long drive going, and looked like they were going to score some points, and we scored right before half. That was huge because they were getting the ball to start the second half."
Manhattan would control the ball much of the second half, adding just one touchdown. Junction was never able to score, as the Indians secured the second half shutout, winning 42-12. As expected, MHS had fun in the locker room after the game.
"It was [full of] joy I'd say," Grubbs said. "We started doing a beat and going, 'One more time,' and just yelling. It was a lot of fun."
With the win, MHS retains the Silver Trophy, the trophy given to the winner of the Manhattan-Junction football game. It is the first time the Indians have won twice in a row since 2010-2011. MHS got the win on its Senior Night.
"Just being able to keep it here senior year, that means a lot," Claussen said, "so it's great to go out, last home game, regular season home game, against JC. It means a lot to win."
As it was Senior Night, Schartz took time to reflect on what this class meant to Manhattan.
"It's a great senior class, it's a special senior class," Schartz said. "We spent some time together last night, after our pre-game meal, and just to watch the interaction between young men was refreshing. It's a fun group and they understand their roles and we have an opportunity to do something special."
Manhattan returns to action Friday, as it takes on Emporia (3-3, 3-3 Centennial League) at Welch Stadium. Coming off of a big win, MHS knows it has to refocus.
"Usually we like to wipe our mind," Sorenson said, "kind of like in 'Men in Black,' we like to wipe our mind from last week. You can pat yourself on the back for a couple hours, but then you got to get right on to the next opponent."