Trump Rally brings Kansas into national news
Thousands of red hats emblazoned with "Make America Great Again" waved in the crowd as President Donald Trump held his Make America Great Again Rally at the Topeka Expo Center on Oct. 6.
In stark contrast, protestors lined the sidewalks bordering the Expo Center entrance who lead anti-Trump chants and held signs.
While Trump brought up a number of topics throughout his speech, his main reason for being in Kansas was to encourage a Republican midterm election and particularly support gubernatorial candidate Kris Kobach and congressional candidate Steve Watkins.
Before Trump himself appeared, his 2020 campaign manager Brad Parscale, a Kansas native, spoke, proclaiming to the crowd, "You are the army of Trump." He also made reference to the confirmation of Brett Kavanaugh as a Supreme Court Justice, which happened mere hours before the rally. It was a conservative victory that Trump himself touted multiple times throughout his speech.
"I stand before you today on the heels of a tremendous victory for our nation, our people and our beloved Constitution," Trump said of Kavanaugh's confirmation.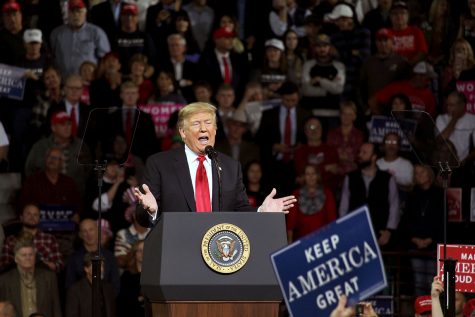 Trump also used the opportunity to go on the offensive and strike out against several individuals including Watkins' opponent Paul Davis, Elizabeth Warren, who he referred to as "Pocahontas," "Sleepy" Joe Biden, Kobach's opponent Laura Kelly and several others. He also struck out at the Democratic party, who he says are "the party of crime."
"You don't hand matches to an arsonist, and you don't give power to an angry left-wing mob," Trump said of the Democratic party.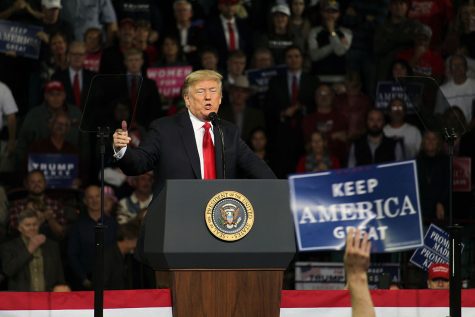 Kobach and Watkins spoke as well, with Kobach pushing Trump's message of ending illegal immigration and increasing national security.
"Now we're going to make Kansas great again," Kobach said during his closing statements, modifying Trump's 2016 campaign slogan.
Kobach, a long-time supporter of Trump, was praised by him during his speech. He even joked that he hoped Kobach would lose so that he could hire him in Washington, D.C.
Trump also used his platform in Topeka to talk about the falling unemployment rates, which have reached 3.7 percent, which he cites as the lowest in the last 50 years.
Trump's 2020 campaign team states that roughly 11,000 people were in attendance at the rally. Among them were high school students from across Kansas, including some from Manhattan High.
"It was really cool to get to see [Trump] and it was really really loud in there," freshman Anderson Marks said. "…I thought it was really cool that I got to see the president."
As the rally drew to a close, Trump once again stated his hope that Kobach and Watkins will be elected, saying "We will always fight on to victory."
Attendees cheered, waving and shouting, as Trump ended the rally with his signature line, "We will make America great again."