Girls basketball defeats Seaman in home-opener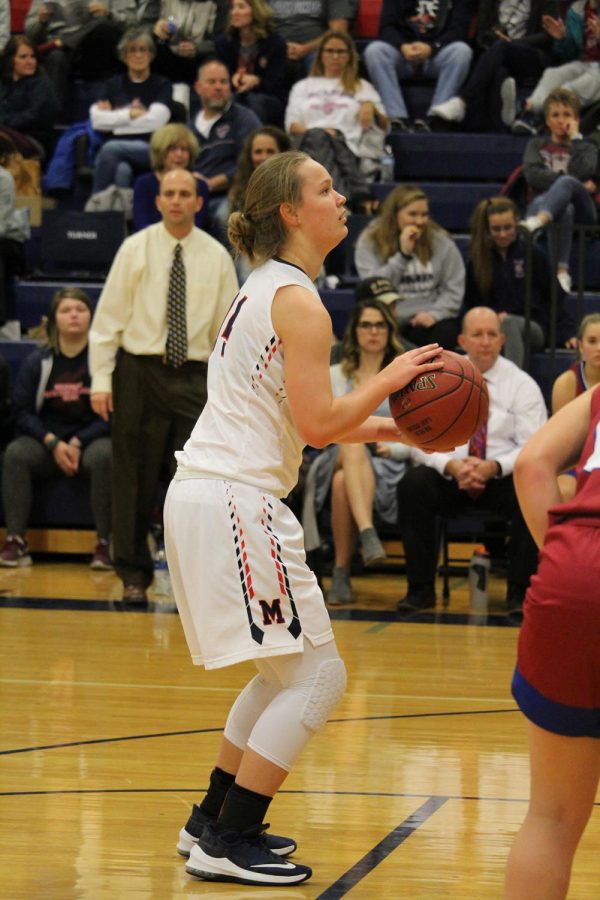 No lead no problem for the Manhattan High girls basketball team (3-1) as they rebound early in the second half from being down by seven early in the first quarter to beat Seaman (0-2) 48-39 in the home-opener.
"I thought the Seaman defense did a great job. They collapsed inside really hard on the ball because they were playing without any size," head coach Scott Mall said. "We had to make a play quick and if we [didn't] it made it harder for us to get the shot off. Sometimes on offense we settled for shots on the outside when I would have liked us to look inside and move the ball."
Despite being down 2-9 in the first four minutes of the game, the team adjusted to the unexpected Seaman lineup, ending the first quarter 10-11.
"It wasn't a great start. They really came out hot, but I wouldn't say it really phased us," senior Taylor Johnson said. "We are probably one of the fastest teams in the league and when we push the ball up the court quickly and play a really tight defense I think we do really well."
The slow start would be short lived as they took the lead in the second quarter and never turned back ending the first half 22-16.
"I think adjusting for sure was really important," senior Kia Wilson said. "They didn't have a big girl on the floor. They were missing a player, so they played with all five players out with all guards which is new for us and we kind of had to adjust to that. We were expecting to see a different line up."
This is the first time this season that the team has begun with a point deficit and managed to end the night with a win. The pressure of the home crowd and a point deficit caused no issues for the Lady Indians.
"I wasn't really worried," Wilson said. "It added a little pressure and kind of told us ok now we have to go and we have to pick it up a little because we weren't just going to get it easy. That pressure along with our assistant coach Kelly [Moylan] saying we have to win the first four minutes of this second half probably caused us to pick it back up."
The team went on a 24-12 run in the second and third quarter lead by junior Aloera Ostermann and Wilson, scoring seven and eight points. Wilson and senior Garrin Williams closed out the fourth quarter strong, scoring 11 of the teams 15 points. Wilson ended the night just one point short of her season high with 18 points.
"I thought we pushed the ball and got someplays [in the second half]," Mall said. "We had a couple of nice plays where we kicked it out and got it down to Kia [Wilson] where she had a break out or two. On offense I thought we attacked the basket a little better and took advantage of some openings from that with Haleigh [Harper, senior] and Kia getting some shots off of that."
The team will play away against their undefeated rivals, Junction City, later today at 7:45 p.m.