Boys basketball wins overtime thriller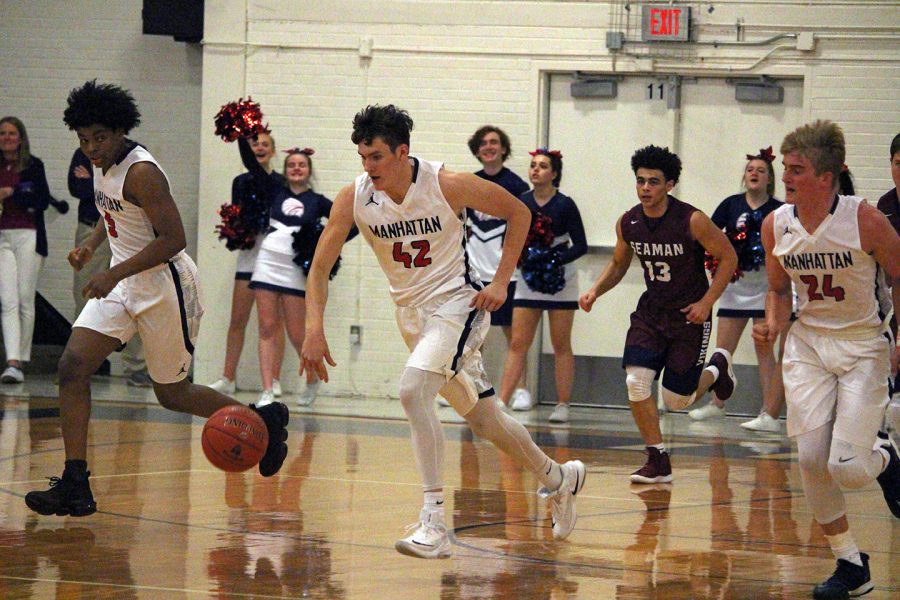 Manhattan High Varsity boys basketball (3-1) defeated the Seaman Vikings (1-1) with a score of 49-48 in overtime last Friday night. They gained some confidence before heading into a week filled with two games, one being a rivalry.
"A lot of things we need to get better at but you know one thing we have is some fight," said head coach Benji George. "It feels good to pull a rabbit out of the hat a little bit but we got our rival Tuesday night. I told our guys 'if you want to be a team that does something you have to protect your home court and play well against your rival.'"
Manhattan was trailing most of the game. They were down by five at the end of the first quarter, then tied it up right before halftime.
At the end of the third quarter, the Vikings had a six point lead. In the fourth quarter the Indians trailed by four with 39 seconds left and the Vikings had the ball.
Sophomore Owen Braxmeyer stole the inbound and got a quick layup to cut the lead to two with 31 seconds left. Seaman would eventually be fouled to stop the clock. The Seaman player missed the one-and-one and MHS would go on to tie the game from a last second bucket scored by junior Raeshon Riddick.
"[Riddick] is a natural scorer," George said. "He's been our most consistent scorer night in, night out, this year. A guy we have a lot of faith in and he has the most experience out of everybody on the team. Definitely a guy we want to go to late."
In overtime, the Indians got out to an early lead before Seaman hit a big shot to put the Vikings up by one. The Indians had the ball, down by one, with 30 seconds to go. Another shot by Riddick put the game to bed.
"The biggest thing was that we just stayed patient on offense and looked for great shots instead of good shots," Lawson Monaco, senior, said. "We got stops when we needed them down the stretch."
The Indians Varsity boys basketball team (3-1) will travel to Junction City today to take on the Junction City Blue Jays (2-0). The Blue Jays are coming off two wins by double digits.
"We know that Junction City is going to be ready to go," George said. "It's going to be an exciting game in a packed house so we're excited for the challenge."