MHS Varsity basketball faces a fierce test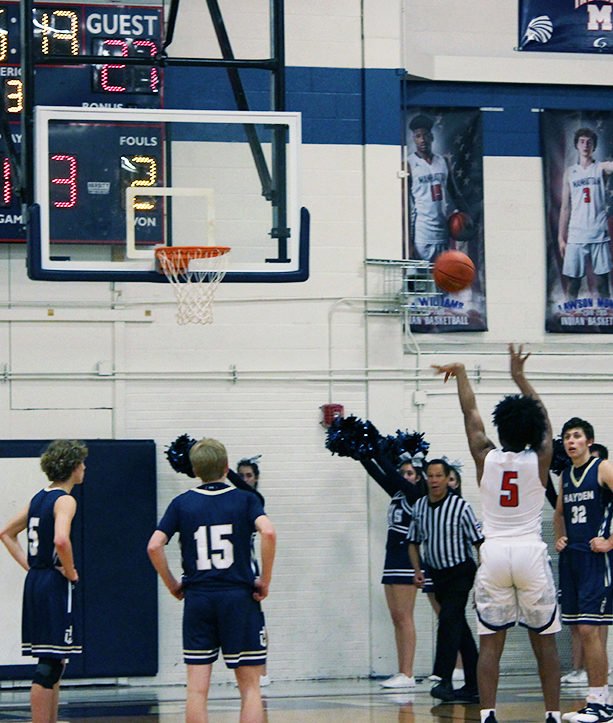 MHS Varsity Basketball (4-2) went 1-1 this past week, downing their rival Junction City (3-1) 51-49 last Tuesday in the Nest, but falling to the Hayden Wildcats (1-2) 44-47 at home last Friday.
The last three games for Manhattan have been decided by less than three points.
"I thought [junior] Mitch Munsen especially did a great job on A.J. Dickerson, their best player," George said. "He held A.J. to four points in the second half and he wasn't nearly as effective. Everybody else just kind of filled in the line. I felt defensively we really buckled down."
Junction City got out to a 17-5 lead early in the game before Manhattan came right back before the half.
The Indians would soon lead the game in the second half and maintain it the majority of the time. In the final minute, Manhattan was up on the Blue Jays 50-49. Senior Lawson Monaco hit a huge free throw to put the Indians lead at two with six seconds left. Junction City came down the court and threw up a three which was way too short. The Indians pulled out their second conference victory.
"We stuck together and didn't give up," junior Peyton Weixelman said. "We could've just laid down and quit but we didn't."
Last Friday, the Hayden Wildcats traveled to Manhattan to take on the Indians. The Indians trailed most of the game but not by much. After tying the game at 30 midway through the third the Wildcats went on an 8-0 run to finish out the quarter. The Indians got within three in the final minutes and the eventually tied it up at 44 with a minute to go. Hayden would hit a three in the final seconds to give Manhattan their first loss in league play.
"We just didn't show up to play," George said.
The Indians will return home this Thursday to face off with undefeated Washburn Rural (5-0), who have scored at least 60 in all their games this season.
"They really thrive on creating turnovers," George said. "Kind of an old-school way, tough, man-to-man defense. Deny, not let you get into your offense. Handling their pressure is going to be key. We're going to have a definite size advantage. I think we can ride our defense and rebounding like we have all year."