Girls punch out another win, rivalry next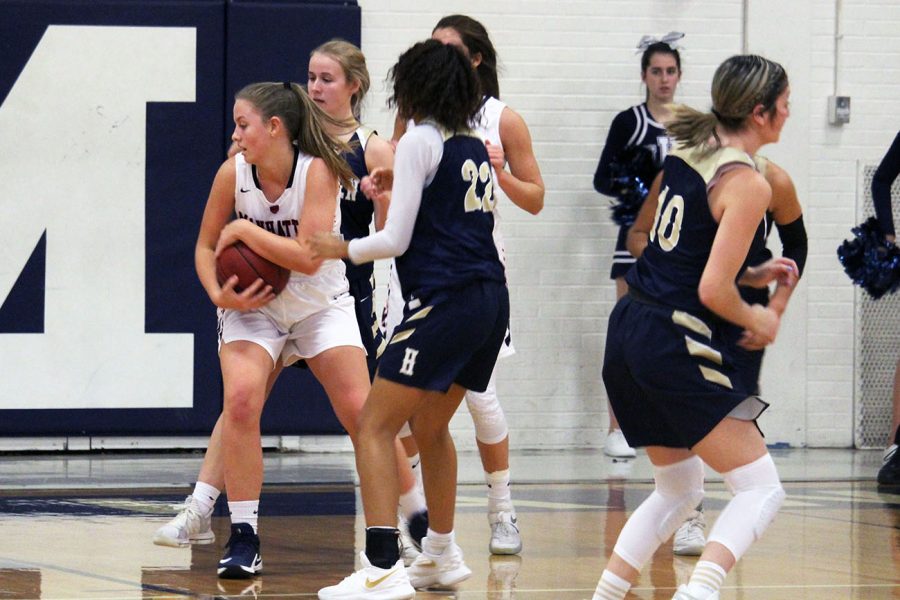 Defense was the name of the game for Manhattan High girls basketball as they win once again against Hayden, 53-36. The team now has a 5-1 record after dominating their rivals, Junction City, 72-16 last Tuesday.
"Our defense did a lot of different things," head coach Scott Mall said. "Hayden does a lot of ball screens and our girls did a good job of talking and switching, which is tough to do sometimes. Our girls do a good job of stepping up to that and there's going to be some mismatches but the girls do a pretty good job of hiding those mismatches. Hayden likes to shoot a lot of threes so I think we did a good job of when we switch making sure we get on those shooters quick and making sure we get a hand up."
Hayden came out strong at the start of the game, but couldn't penetrate Manhattan High's defense causing multiple turnovers resulting in Manhattan leading at half, 22-10. Senior Kia Wilson lead the team through the first half, scoring all 10 points for the team in the first quarter and four of the 12 in the second quarter.
"[Hayden] tired to drive a lot," senior Haleigh Harper said. "We just had to help on defense a lot which we practiced a ton this week so we were ready for that and it didn't really catch us off guard. We really expected Kia [Wilson] to shut Hunter [Brooklyn, senior] down defensively and then we expected [Wilson] to score a lot on offense so that was our main goal was to get it to [Wilson] so that way we could get her one on one with [Hunter] and we did and [Wilson] executed."
Despite missing a few shots late in the second quarter, Wilson ended the night with an astounding season-high 27 points, 24 coming from the post.
"I think we have done a really good job at just teamwork and adjusting through stuff," Wilson said. "I think we had to adjust and at the beginning, I certainly had to adjust more because coach mall was trying to get me in the post and switch the offense to a four out, I think just looking for opportunities is what I changed."
Even with potent offensive players composing all of Manhattan High's starting lineup, the key to success for the team remains their defensive abilities.
"Defense has always really been our kind of thing especially for us seniors," Wilson said. "Since forever ago we have always been a defense-first team so I think we just carried that on. If we stop them from scoring then in turn that gives us opportunities on offense and even if we don't score we can still win by stopping them from scoring."
Although Wilson scored the majority of the points for the night, it was nothing short of a team effort with junior Aloera Ostermann scoring 10 points and making multiple defensive plays.
The team plans to continue their trend of teamwork, as they host yet another rival team, Washburn Rural, on Thursday.