MHS choirs wow at annual Serenade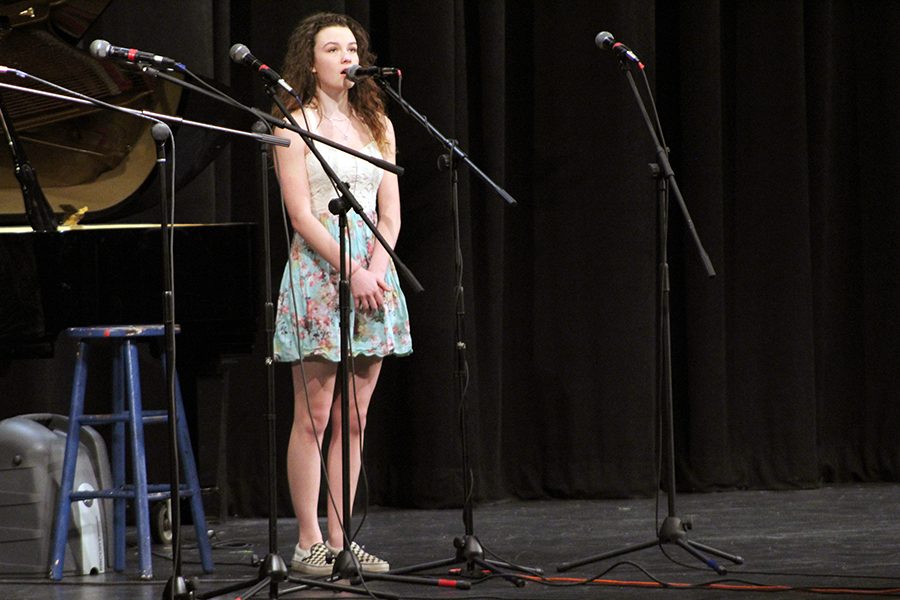 Members of the choirs within MHS came together for a night of liberated performances sung within the walls of Rezac Auditorium as they artfully opened the doors to their annual Serenade Concert.
The performers selected and rehearsed popular music from every genre imaginable, entirely independent from the work they do in class. They began the night with a performance from the Varsity Choir titled "Loving Is Easy" before opening the concert with a variety of solos, duets and group performances.
"It was very good," Chad Pape, choir director, said. "It's always fun to see what the students select for themselves and what kind of music they're interested in."
Unlike other choir performances, Serenade gave students an opportunity to go solo. The chance to sing alone was thrilling and daunting at the same time due to an empty stage that hardly ever lacks the vast majority of students who usually provide comfort to those performing.
"I feel like it might be harder because choir is more like a harmony thing," Hannah Gou, junior, said. "Everybody works together… so if I miss one verse most people are singing that part so then I won't be so nervous but when it's actual Serenade it's all individual."
Although a fun concert, it was somewhat bittersweet because it was the final goodbye the seniors were able to give to an event like Serenade.
"Being a senior now and having done it every year since my freshman year, it's been cool to do things that I'm continuously prouder of," Grace Franke, senior, said. "I'm always looking at things going 'oh maybe I could do that for Serenade or maybe I could that' and now that time is over."
Despite the looming sadness of senior absence, the choirs still had to face other obstacles. Due to poor weather conditions, the groups lost out on a day of rehearsal onstage.
"The only thing that could've gone better is if we hadn't had a snow day that changed our schedule," Pape said. "It would've given me a lot more time to figure out some technical issues but it was fine the way it was."
Along with stage preparation, an event like Serenade requires that participants work outside of class. Because many students are busy with other extracurricular activities, the groups got their music before winter break to ensure a proper amount of time to practice.
"We were super excited before hand," Guo said. "We had been practicing over and over again with Mr. Pape."
As the saying goes, practice makes perfect and perfect they were. The group is more than pleased with how the night turned out and is plenty excited for their future performances.
"We had a lot of fun and I'm glad that it went the way it did for my senior year," Franke said. "I know that everyone is always stressed and wishing 'oh, I wish I had prepared more,' but it's always a really good show and it's really fun for everyone to do."