MHS considers candidates for new principal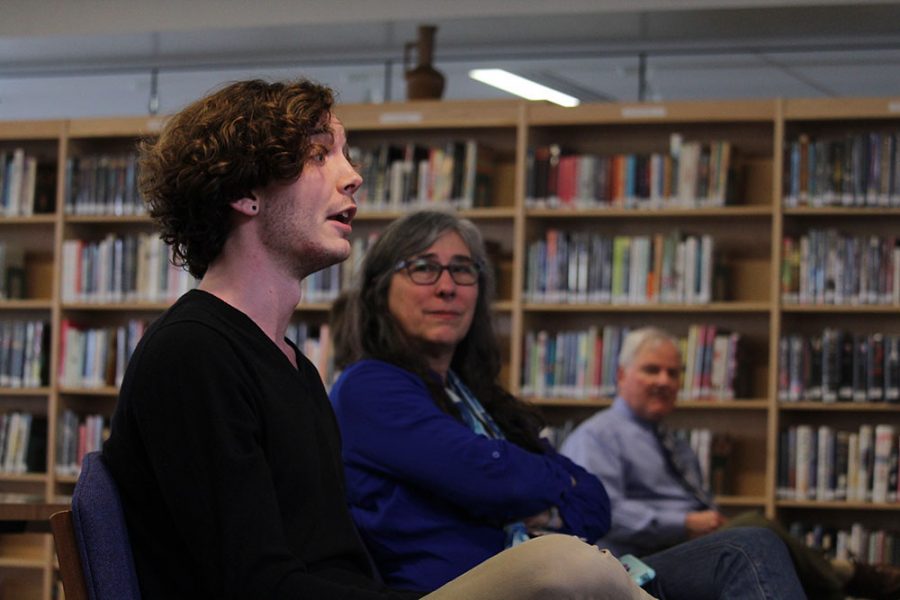 As Manhattan High prepares to say goodbye to current building principal Greg Hoyt, it opens its doors to another. However, that other still remains unknown as students and staff work toward finding the perfect person for the job.
Although it's uncertain as to who will lead the school for the coming years, MHS had the ability to see who was in consideration with a week-long meet-and-greet for the top five candidates in the West campus library last week after school.
They began last Monday with Michael Norris, former Assistant Principal for Lawrence High, who was followed by one of MHS's very own, ninth grade principal Dave Holloway. Third to follow was another familiar face — sophomore principal Michael Dorst — followed on Thursday with Benjamin Jimenez from Decatur. The meeting concluded on Friday with Martin Straub, current principal for Hays High.
"Formal interviews allowed candidates to be compared based on responses to a common set of questions," Dr. Marvin Wade, superintendent, said in a written statement. "In contrast, the after-school receptions provided a chance for people to informally meet each candidate and to provide input for interview committees to take into consideration."
Each candidate also had lunch meetings with a panel of Student Council officers who conducted interviews of their own about how the candidates would personally affect the student body.
"We asked them about their education experience and how they can benefit the environment we have at Manhattan High," Elizabeth Chapman, junior representative, said. "[We looked for] how well they interacted with students and support of all school activities."
Their input was reflected by the various members of the community who participated in the online survey provided by the district, which asked people to discuss qualities they would want to see in whomever gets the position.
"Hundreds of responses to the Community Input Survey identified attributes to seek in a candidate, as well as expectations associated with being Manhattan High School Principal," Wade said. "Most often mentioned were a commitment to student success, providing a safe and supportive environment for teaching and learning and a recognition of the need for our community to be actively engaged with MHS."
Along with the work done by the various StuCo members, other students decided to attend the meet and greets for more specific reasons. Senior Jacob Wineland attended Friday's meeting with Straub as an advocate for both the arts programs and minority groups at MHS, asking questions pertaining to diversity and equality for the groups who might not experience it.
"MHS is pretty diverse and whoever is to get the job has to be able to treat all students equally," Wineland said. "I did ask a bit more specifically about the treatment of transgender students and bathroom policies and he was brave enough to be honest and say he wasn't experienced with the subject but was willing to learn."
Wineland says he valued the integrity in Staub's responses and feels that honesty and transparency should be a top priority for any administrator, regardless of who they are.
Issues such as the ones Wineland addressed were also mentioned in the independent interviews done by StuCo, who used their time to compile the information into summary reports later given to Wade and the interview committee. The committee will reconvene today to finalize their decision and will give a final candidate recommendation to the Board of Education at their meeting tomorrow, which StuCo hopes to have impacted.
"We obviously aren't the ones making the final decision," Chapman said. "I hope they take our input into consideration."