Key Club hosts Mental Health Panel, encourages healthy transition to college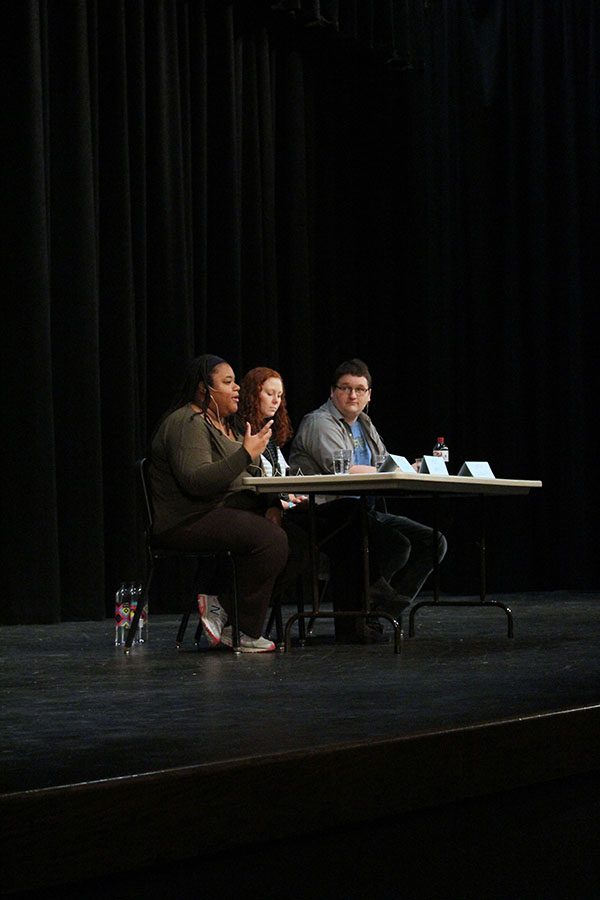 Last Wednesday, Key Club hosted a Mental Health Panel during advisory in Rezac Auditorium. The guest speakers for this event included Pawnee Mental Health supervisor Jurdene Coleman and therapist Heidi Swanke as well as science teacher Clancey Livingston.
While the presentation was open to Key Club members, the senior class was also invited to attend and students were given the option to leave during flex time if need be.
"I know that this is a tough topic for a lot of people to engage in," Lisa Julian, Key Club sponsor, said. "[So] flex time [was] an opportunity for students to leave to pursue other things that they need to work on [or so] those who were less comfortable might choose to leave."
The focus of the Mental Health Panel was how to have a healthy transition from high school to college. Practicing positive thinking and self image was also stressed.
"I remember Mr. Livingston saying something about remembering your life's perfect moments in the times where you feel unmotivated and directionless," said Duru Dogan, junior and Key Club Lieutenant Governor of Kansas. "That's what resonated the most with me."
Furthermore, high schoolers were shown how to improve relationships with friends and family and how to know as well as how to end a toxic relationship or navigate it.
"They talked a lot about setting up mental boundaries and I thought that was really powerful," said Alison Payne, junior and Key Club Vice President.
Additionally, students were taught how to deal with anxiety and depression and how to get help when needed. It was emphasized that getting help is nothing to be ashamed of.
Rather than asserting their own help, students were encouraged to provide others with helpful resources.
"You should not try to take on somebody else's problems as your own," Julian said. "Helping friends find resources is more valuable than trying to fix it yourself because we can't fix other people's problems ourselves. But we can help them find resources to fix them."
After the presentation, students were given the opportunity to go up to a microphone and ask questions.
During advisory over the previous week, students had typed up questions and at the event their questions were handed out at random so no one was asking their own questions. That changed once those questions were answered.
"About three quarters of the way through, … students began to go to the microphone and ask very personal questions about situations that they were encountering," Julian said, "and I think that you could feel a shift in the room that happened and I think that was a really valuable … part of this."
Notably, the students and staff were accepting of these questions and welcomed discussion.
"I liked how open everyone was," Payne said. "I was glad to see students asking personal questions and talking about mental health problems we rarely have discussions about."
One question that was asked afterward was about where students should find help within Manhattan High. This is commonly answered with to "find a trusted adult." According to Julian, this question wasn't addressed as well as it should have been.
"There are actually people whose job in this … building [is] to help students with these issues or to help them find the resources that they need," Julian said.
Those sources include our counselors and social workers Rachelle Bahr, Katie Ball, Jana Biery, Dustin Duntz, Kari Humes, Eric Ross, Erin Spreer, Kim Suderman, Stephanie Thomas and Tony Wichmann. If you or someone you know is going through a difficult situation and need help, those people are here for you.
"No one is alone. Whether that is here at MHS or when [you] decide to transition to post secondary," Julian said. "Whether that be college, career, gap year … We are here for [you] and others are here for [you] and no one has to walk through this life alone."
Following this Mental Health Panel, Key Club is excited to announce that they will have a podcast centered around mental health. Some of their goals for their podcast is to introduce students to helpful resources and to "reduce the stigma for asking for help." For their first podcast, they plan to have clips from the panel included, so be sure to look for when it is available.
All in all, Key Club hopes that the Mental Health Panel as well as their upcoming podcast will help students feel better about their current and future stresses in their lives.
"I gained hope, not only in my personal life, but for the school too," Dogan said. "I hope, [that because of] the panel, that students feel more comfortable talking about mental health and seeking help if they need it. This was the mental health dialogue that MHS needed."