Girls soccer bounces back from rough week of losses
After having a rough few games last week, the Manhattan High girls Varsity soccer team came back from their losses with a win against Emporia, 2-0, today.
The game was unique to their usual process when it came to scoring when MHS took the lead in the first half of the game with a single point and managed to hold Emporia to zero. Then they scored again in the second half to ensure their victory.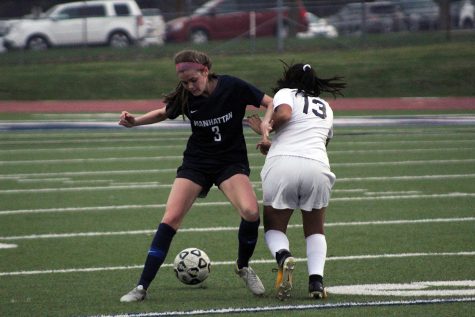 "It felt good, just to like kind of get some confidence back," junior Alayna Girard said. "I mean, we still have things to work on, but it feels good to get another win under our belt."
During the game they tried to work on areas of improvement that previously caused them to struggle, such as communicating well and making their shots on goal.
"I think we're starting to get on the same page," Girard said.
Throughout the game, their effort showed. The girls worked together to score both of their goals and came to their ultimate victory. Now they only hope to keep improving upon the foundation that they've begun to lay down.
"It feels really good," Girard said. "You know, if the girl next to you is playing for you, then you know that you can leave everything out there and she's gonna have your back."
The Indians will host Topeka High next Tuesday at 6:45 p.m. on Lew Lane Field.