Hugs for Humanity hopes to 'spread compassion and positivity' to MHS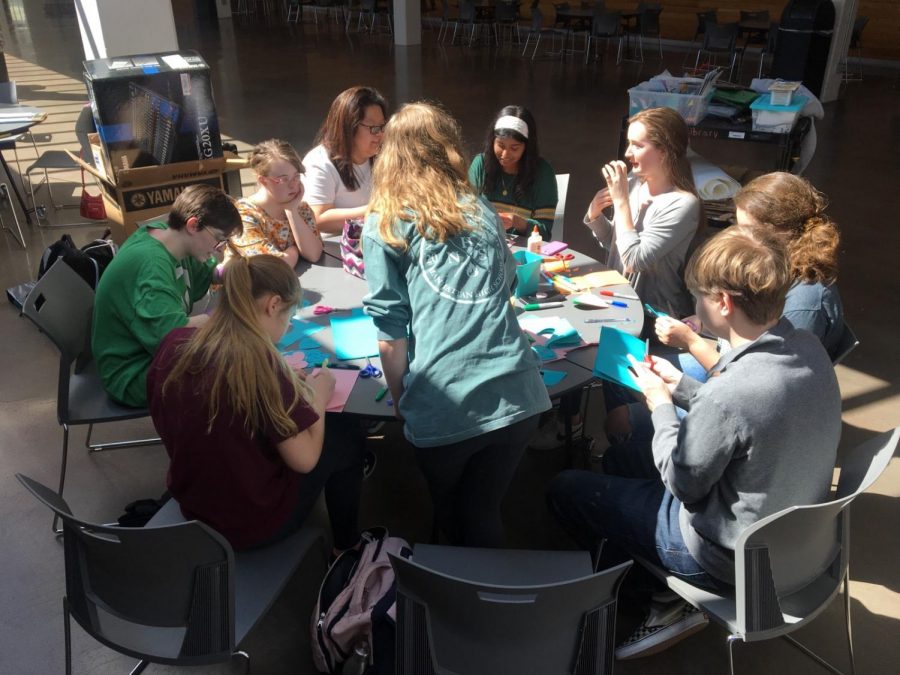 Five Manhattan High clubs are joining together April 24 to spread love and compassion around MHS through the Hugs for Humanity event. The clubs participating include: Students Against Destructive Decisions, Key Club, Thespians, Interpersonal Skills and Environmental Science Investigations.
The event was originally planned for April 18; however it was moved back to the 24 to allow for more time to order all the supplies and get everything set up.
Before school the morning of April 24, the clubs plan to give out free flowers, hugs and candy in the commons. They have also created uplifting posters to put up around the school. During flex time, they plan to set up the Alumni Conference Room with Key Club members who have received training on how to handle mental health issues and allow students to come in to talk about issues they are facing in their lives.
According to junior Elizabeth Kim, one of the event's main organizers, the goal is to "create a safe space" to allow people to vent. There will be no teachers present because they are mandatory reporters, meaning they would be required to report anything they heard that involved a student in a dangerous situation. According to Kim, everything said will be kept confidential.
Hugs for Humanity was planned in response to the recent suicide in MHS, which has brought up scrutiny of the school's handling of mental health issues. The event is the student response to how mental health can be addressed by the student body.
"[We have] such a large student body that it's hard to recognize individuals who are [struggling]," Kim said. "There is one guidance counselor [Erin Spreer] specifically on mental health … There are about [400 students] for each grade, … and yet there is only one person [in charge of mental health]. While we can't change… the system that the school has what we can do is … step up as students and try to address these issues ourselves."
The goal of the event is not only to spread love, it's also to raise awareness and hopefully convince more people to get help when needed.
"Hugs for Humanity is … spreading love around because we haven't … been feeling a lot of love around [MHS]," said junior Elora Neff, also one of the main organizers of the event. "We're … reminding people that they're worth everything [and] you always have someone to talk to."
The clubs hope that spreading this message next Wednesday will make the school a better place and give the students a better environment to learn.
"We should always spread love and positivity," said junior Faith Thomson, one of the event's organizers. "If we spread our message we hope the whole school will be more compassionate towards each other. Everyone goes through a tough time in their life and it is important that everyone knows that they are loved and there are people who will support and help them no matter what. Everyone is priceless and deserves a safe and supportive place to share what they are going through and [to be able to] seek help when they feel hopeless."