Two jobs, full schedule
Manhattan High educators, students manage part-time jobs.
Duncun O'Brate and Gabriel Jernigan
Multiple teachers hold a part time job for many different reasons, including Manhattan High's own Tanhee Matuszewicz, who teaches math at the East Campus. Matuszewicz was a shift manager and waitress for Wahoo Fire and Ice Grill in Aggieville for five years, until the restaurant's closing in January of this year.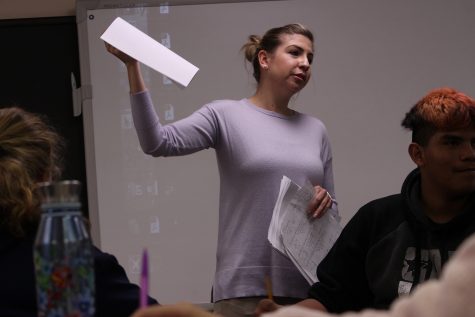 "It's bittersweet," Matuszewicz said. "It's definitely great to have time to hang out with my friends and family and relax more than I used to but the flip side is now I have to be extra careful with my budget. So whereas my stress used to come from not having enough time, now it comes from not having enough money."
Matuszewicz believes that plenty of teachers are underpaid, especially the younger ones as they are still trying to pay off student loan debt they might have acquired while in pursuit of their teaching degree. The statistics agree with Matuszewicz feelings, as according to salary.com, the average salary for a high school teacher in kansas is between only $45,000 and $65,000.
"I know of a large number of teachers who work second jobs online teaching, at grocery stores, running lawn care businesses, really anything to make life more livable on a teaching salary," Matuszewicz said.
While juggling a part time job and teaching hundreds of ecstatic freshman, Matuszewicz made sure that she kept her priorities in check.
"I would say my ability to teach didn't change because being prepared for my job was also first priority but certainly my energy level is higher when I'm at school now." Matuszewicz said.
Although Matuszewicz no longers holds a part time job, there are plenty of high school teachers that do and continue struggling to balance all of their responsibilities between those two jobs. Said part time jobs, remain a large part of life outside of school for both students and faculty at MHS.