Girls soccer secures double wins
The Manhattan High Girls soccer team brought the heat again last week beating Trinity Academy 6-1 and Blue Valley Stilwell 2-0.
In their first game against Trinity Academy, the Indians dominated their opponent 6-1. They started the game off strong, holding Trinity Academy scoreless in the first half. The Indians used that to their advantage.They scored six goals throughout the game with sophomore Sam Grynkiewicz scoring her first hat trick of the season.
"I was just beyond happy and proud of myself for scoring and the team for helping me accomplish that," Grynkiewicz said.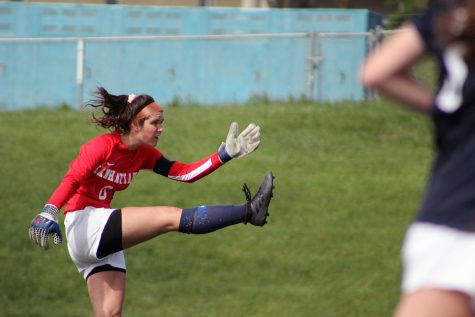 With freshman Ella Ruliffson scoring two goals and sophomore Raegan Geisbrecht adding one, the teams score totaled to six.
With their win against Trinity Academy behind them the Indians spent Saturday morning facing off against Blue Valley Stilwell. Grynkiewicz went to work again in the first half versus Stilwell scoring the Indians first goal. The team went into halftime with the lead and junior Jordan Stegeman, who recently came off of an injury, came in during the second half and scored the second goal to insure the Indians' victory.
Throughout the game the Indians back lined worked hard to hold Stilwell scoreless and this allowed the offense some room to work.
"It feels amazing knowing they have our backs and if the attackers mess up they are right behind us to cover up our mistakes," Grynkiewicz said.
Although the team has experienced a bit of a rough patch, they're quickly working to turn it around so they can ensure more wins. The girls not only helped themselves but their coach Mike Sanchez has played a big role in leading the girls.
"[Sanchez helped us] by believing in us and not giving up," Grynkiewicz said. "He continued to coach and show us different ways to play until we all clicked."
With two more wins under their belt making their record 7-3-1, the Indians will host Wichita Northwest tonight and head to Highland Park on Thursday.