Spring Play comes to end, drama department prepares for changes next year
After three performances with sizable crowds, Manhattan High's spring play, "The Crucible," has come to an end.
This year's spring play was a classic choice, but it was still able stretched students' acting abilities in many ways, especially through the use of time period appropriate dialogue. This made it a more complex process for students to embody their characters and truly get a sense of how they want to play them.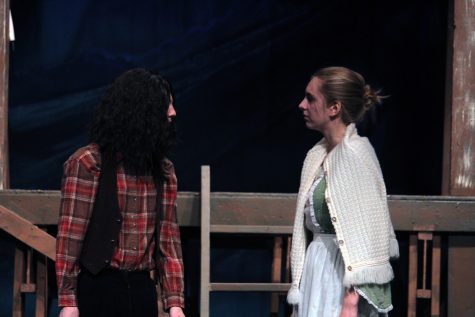 "This is considered a true American classic play and I thought that it would be good just for the students to experience that literature," drama teacher and director Ginny Pape said.
Students seemed to share Pape's sentiments, as many of them saw the traditional play as an opportunity to learn.
"Usually we don't do super serious … well-written plays like that, so it was a good experience to be able to do that for once and have a decent part in it," said senior Jack Laswell, who played Reverend Parris.
"The Crucible" was widely considered a success among those involved in it, who were proud to be part of the production.
"I just think the acting overall was very good in that show," Laswell said.
Audience and cast approval alike reflected positively on Pape, who will soon be completing her first year as the drama teacher at MHS.
Now that she has a year under her belt, Pape plans on making changes to the show schedule for next year's performances. Pape's plan is to have a fall and spring play and to move the annual musical to the early spring.
"That will allow us to perhaps do some more exciting technical things for our musical because we'll have more time [to get] ready," Pape said.
According to Pape, this will also give students more time to perfect their performances, as the current schedule forces them to perform two plays nearly back to back. Pape described this experiences as being "like running a marathon" and believes that the new schedule will help students manage this better.
This year's spring play gave students the opportunity to stretch their acting abilities, largely because "The Crucible" is such a classic play with period appropriate language. While this and other skills could be difficult for actors at times, they overcame any difficulties through many hours of rehearsals and put on a show that had audiences give standing ovations.
"It was really, really good," Pape said. "The students all really connected to their characters and gave very solid, emotional, raw performances. I think the audiences really appreciated it."