Girls soccer wins both games, one postponed
The Manhattan High girls soccer team started off the week expecting to play three games, but with the weather they were only able to play two, both of which the Indians won.
The team was supposed to play Wichita Northwest last Tuesday but the game was rained out and postponed, leaving the Indians' record at (7-3-1).
"It was annoying because we needed the game for our record because it gives us a better seeding," sophomore Reagan Geisbrecht said.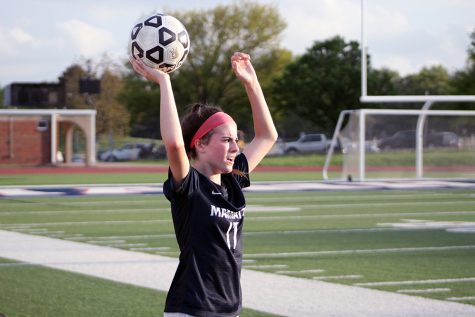 There was nothing the girls could do about that game so they quickly switched their mindset to their Thursday game versus Highland Park.
During their game, the Indians cruised to an easy victory, even ending the game early, although it wasn't over as many of the girls would've liked. The Indians scored just nine goals in the first half, one short of the mercy rule.
"Personally, I was kind of frustrated, because I felt like it was a game that we should have definitely mercy-ruled them in the first half," Geisbrecht said. "But we knew we could get it done in the second half so it was okay. But I think it was just kind of frustrating overall, knowing that we didn't [do it sooner]."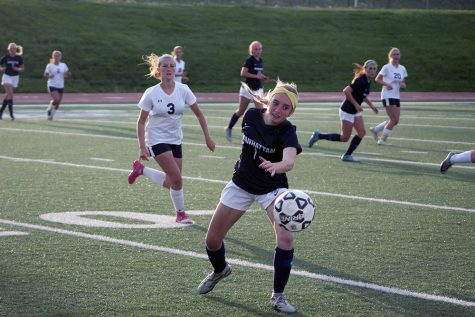 The team made sure to put the pressure on as soon as the second half started, scoring their tenth and final goal before 10 minutes had even passed in the second half. Being able to end the game early was important to the team since the very next day they had to face off against the Hayden Wildcats.
"Yeah, I think that in the first half of the Hayden game, it was a little harder to start off good because we were still tired from Thursday," Geisbrecht said. "We were able to pick it up."
The team got off to a slow start allowing Hayden to walk in to half time with the lead, 1-0.
But their lead was short lived as the Indians came out during the second half with junior Jordan Stegeman scoring a goal and Geisbrecht following with her own shortly after. The two goals being the final ones of the night leaving the Indians with the victory 2-1.
"We knew it would be tough … it was a winnable game. But I think we knew that if we played bad, we could definitely lose which we showed in the first half," Geisbrecht said. "We didn't play our best. And that's why we were down at half. But then in the second half, when we picked it up and played better."
The Indians will play again on Thursday verses Shawnee Heights.