AP students continue to power through exams
Emma Elliott, Staff Writer
May 13, 2019
Throughout the last few weeks as students have been worrying about finals, some have been worrying about an arguably more daunting task: passing their AP tests.
The tests, which have been held in the North gym throughout the week and will continue into this one, have been for 19 different classes ranging from AP French to AP European History.
For Advanced Placement Coordinator Beverly Fink, this time of year is chaotic.
Her job is to make sure the tests go smoothly, set up the tests at the right time, accommodate for students who need something to be changed and even the smaller details like keeping students five feet apart.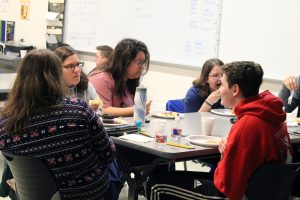 However, despite all of these strenuous details, the chaos is worth it to bring more opportunities for the students.
"This is the same kind of test that they're going to take at the collegiate level. When they study for their classroom, when they study for their exams, those are skills they are going to need," Fink said. "Now, with that same idea, I want my students who are taking these [AP classes] to have classes that are just plain fun. Most will be in a sport, they will be in music, they will be in debate just to make them feel good about themselves. But for their stimulus, for their thinking, those AP classes are very, very good."
Nearly 750 tests were administered this year for a cost of $99, with $94 going to College Board, who create and send out the tests, and the remaining $5 going to a company called Total Registration, which registers all of the students so it doesn't have to be done by Fink.
Despite the nerves surrounding the exams for students, many feel well-prepared by their classes and AP teachers alone, with minimal studying necessary to feel confident for the tests.
Mueez Asif, who has taken five of these tests, says it has not been too stressful.
"I decided to take the AP tests and classes to get a feel for college," Asif said. "It's also nice to get some credits."
While many tests were taken, nearly 250 students who took an AP course decided not to take it with their classmates. Reasons vary, as it could be because students know they will not get at least a score of three, which is required to gain any college credit, while some knew their college in mind wouldn't accept the credits. Others just wanted to take a challenging class.
Some students who took the tests definitely felt the challenge once they were looking at their paper.
"I felt stressed taking the AP Biology [test]," junior Alisha McKnight said. "The free response questions really got me and I didn't feel as confident about those."