StuCo officers plan for 2019-2020 school year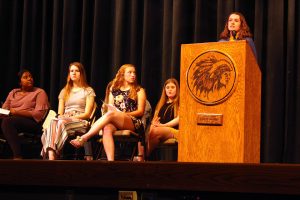 After a year of accomplishments in the 2018-2019 school year from the Student Council, 2019-2020's StuCo has a lot to live up to. Among other things, StuCo put on a number of blood drives and the prom with record-breaking attendance.
"This year I'm really proud of the way prom turned out." Hannah Higgins, incoming student body president, said. "Everyone did a really great job with their committees and the way that all the decorations worked out… and the way that everyone worked together was really admirable… I'm really glad we got to do that together."
Higgins and incoming vice president Will Bannister hope to to meet and exceed the president set by this year's student body president Parker Wilson and vice president Kristine Gevock.
"Parker Wilson was a really good president and he was always very present in every event," Higgins said. "Wilson was a good leader and a very well liked person… just being involved with the student body is something that the student body officers did this year that I really admired."
Higgins is not the only officer who hopes to continue Wilson's legacy of connection to the student body.
"I really looked up to our student body president right now Parker Wilson," incoming junior class president Mia Thompson said. "I think he did a really great job of including everyone and just being a positive impact and I… hope I could be as good [of an] example to everyone else."
Along with continuing Wilson and Gevock's efforts to connect with the community, the incoming officers hope to contribute their own efforts to expand on this school year's.
Bannister and Higgins have multiple ideas to try to involve the student population in the Student Council's policies. They intend to start a podcast about the student council's activities, have advisories nominate representatives and keep a voting record for representative that will be provided to students.
"We want to change up a lot of the rules about accountability for StuCo next year so representatives should be more accountable," Bannister said. "That will allow people to view StuCo as more useful [to students]."
Higgins and Bannister intend to keep a lot of the student activities similar to this year's and focus on changes to representation for more students in the student government.
"I think a lot of the activities will look the same but I think the student body officers and I have a lot of new things to… involve the [student body in]," Higgins said. "Hopefully StuCo will be more transparent for the student body to just see what's happening in StuCo."
The incoming officers are optimistic about instituting the new changes, despite the difficulty of setting up a new student government.
"Every year with new members brings new opportunities and new challenges," Higgins said.