Manhattan comes together in honor of former coach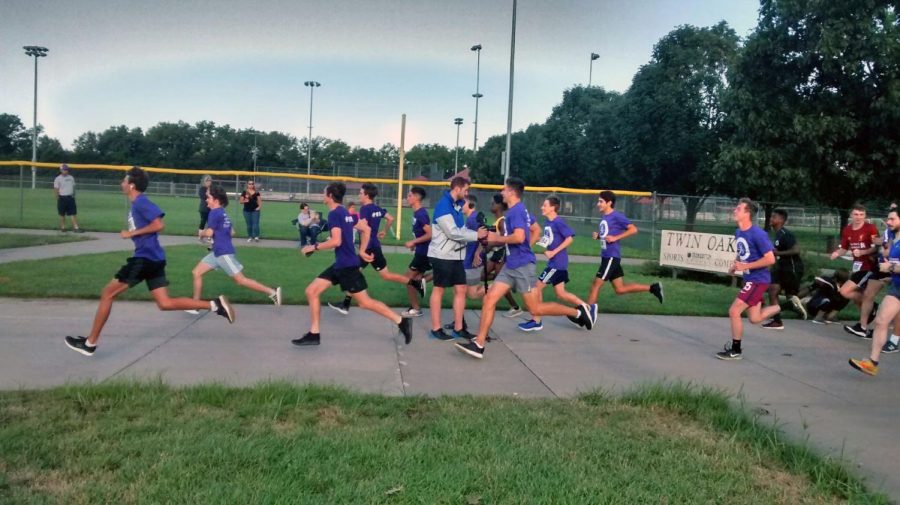 The Manhattan community came together 8 a.m. Sunday, Aug. 18 at Annenberg Park to remember former head boys soccer coach Frank Alonso and to fund research for a cure for pancreatic cancer, from which Frank died on Nov. 4 last year.
Frank took the boys soccer team to the state final last season, in which they ultimately placed second, the day before he passed away. He was active in the Manhattan community, coaching soccer at the club and high school levels for many years.
Since his death, his wife Jennifer Alonso has set up The Frank Alonso Memorial Soccer Fund in his memory. The "You'll Never Walk Alone" cancer research run — so called because of the motto of Alonso's favorite soccer team, Liverpool F.C. — is set to be the first of many annual runs to support cancer research and the MHS soccer program.
"We wanted to be able to fund some cancer research because nobody should go so fast," Jennifer said. "We… just want to… make sure that we're doing all we can to beat this disease."
According to Jennifer, they were only expecting around 100 runners to participate in the 5k and were thrilled at the tripled turnout for the first event.
"I'm so happy,"Jennifer said. "I'm overwhelmed, I'm humbled. It's, it's amazing."
The organization don't know how much money they raised yet but they expect it to be a specific amount.. Money came in the form of donations, running fees, a raffle and local business sponsorships. Runners who registered before July 31 contributed $25. But runners that registeres after that paid $30. 90% of the revenue will be donated to Johnson Cancer Research Center for their Center of Excellence for pancreatic cancer. The other 10% will go to the memorial soccer fund to support the MHS boys and girls soccer teams.
"I was really impressed when… Jen said that there was going to be 350 people signed up," assistant boys soccer coach Seth Yurgel said. "I thought that was amazing, especially for its first year, and I hope that we can just continue to make this thing grow."
Much of the community Alonso impacted was represented at the race, from former and current MHS soccer players, to running gurus –including sophomore Max Bowyer who won the race by almost a minute– and others involved with the MHS team.
"I wanted to run for Frank because he taught me a lot with the game of soccer," Yurgel said. "I'm just really thankful that I was able to come out here today."
According to Yurgel, around forty players ran the 5k. Junior Varsity, Varsity and alumni players alike came out to run.
"I want[ed] to be out here to honour Frank," junior Everett Pearsall, who plays on the team, said. "He's done so much for us all in our lives."