2A to 6A
Jimenez joins Manhattan High community as junior administrator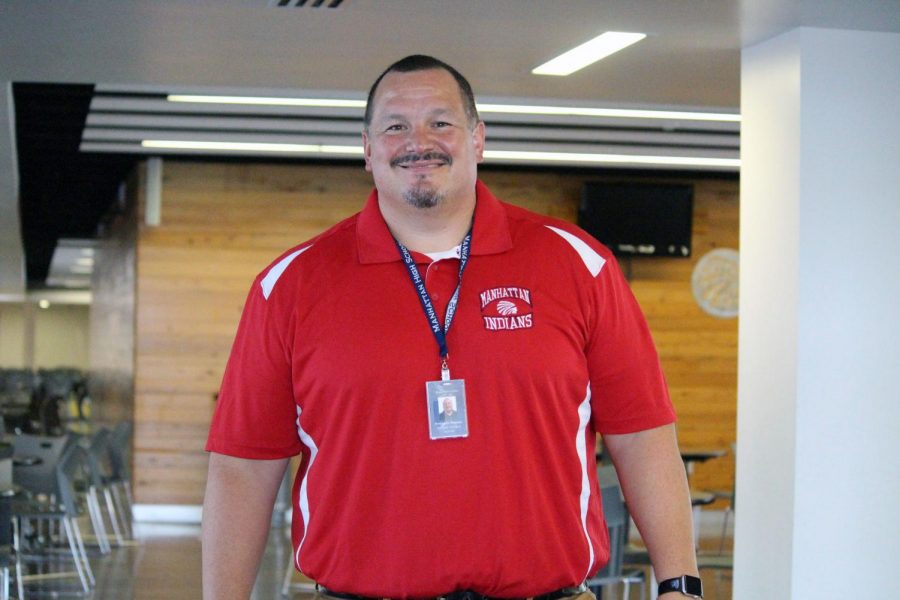 12:40 p.m. It's lunchtime at Manhattan High.
It's Friday, Sept. 6. Students begin flooding in and out of the front entrance for lunch; others begin taking their seats, blanketing the wood-paneled walls and cement floors of the Prentup Commons in waves of blasé chatter and white noise.
At the top of the stairs, underneath the overhang diligently displaying the Manhattan High mascot, stands Benjamin Jimenez, Assistant Principal to the junior class and the newest addition to the MHS administrative team.
Observing the cafeteria buzz and students as they arrive back to school, Jimenez takes in the thrill of the 6A-chaos.
"I love it here," he said. "For like, the last eight years, I was in Oberlin, Kansas, which was a very small 2A school. And I loved it there… I was able to go to all my kids' games and all that kind of stuff. But, you know, as we got down to it, I just wanted to be want to be back in a big school."
Jimenez, a Kansas State University graduate, has been in secondary education for 20 years. Starting in the Wichita school district, he has been at schools around Kansas, working as a high school social studies teacher and coach in Valley Center before receiving his masters in Building Leadership from Baker University. For the last eight years, Jimenez has been in Oberlin, working as a 7-12th-grade principal.
"From the time I was in high school, I wanted to be a teacher," he said. "I didn't want to be a principal at that point time. I knew I wanted to be an educator. When I graduated from K-State, I was ready to start teaching… my goal from that day until now has been to get back here."
According to Jimenez, he has taken his transition from Oberlin as an opportunity to return to his roots as an educator, considering the challenges and strengths of a 6A school as a refreshing change from his past work in a 2A school.
"I was lucky to be kind of used to it," he said. "I taught in a 5A school… going to a small school was the biggest adjustment for me. Like when I went out to western Kansas, that was tough for me. But I learned it and then moving back into this, this has just kind of been a breath of fresh air for me."
Sitting in his office that afternoon, he expressed a joy for Manhattan High, talking of his new students and even an appreciation for the daily lunchroom pandemonium.
"Kids are awesome here," Jimenez said. "Totally different than I think what some people see as in a 6A school. And it's just amazing how everybody… meshes together perfectly…you walk into that lunchroom and the kids come in… they find their spots, they have their friends, they sit, they eat, the noise level really isn't that bad. I mean, I've been in my 2A high school when the noise is louder than that,…that's what amazed me, you know, coming in here was, we have really good kids here."
As Friday's midday frenzy began to settle, Jimenez nonchalantly spoke of his time in Manhattan and his passion for the community.
"Manhattan has been really… this is it for me, this is where I want to be," Jimenez said. "I'm from Manhattan… I graduated college from here. Played football here. I have a love for Manhattan. And so I'm excited to be here. I want to stay."