Cross Country sweeps first meet of season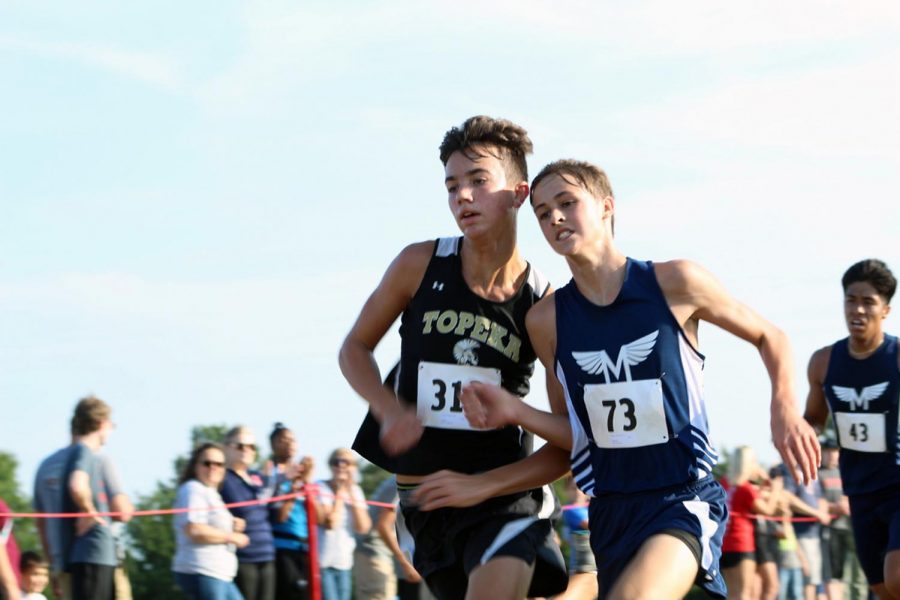 The Manhattan High Cross Country teams dominated their first meet of the season, winning every single race from C-team to Varsity.
The wins came after weeks of practice and personal efforts made by both the team and the coaches to make sure that everyone was up to speed and ready to race on Saturday morning.
"Across the board, kids really ran fierce," Susan Melgares, head coach, said. "We haven't been able to do what we would normally do, but I felt like they handled the hills … and the heat really well."
Along with the bold competition, the team had to also ensure that any new runners on the team felt prepared to participate in their very first race. According to freshman Amelia Knopp, keeping the team bond between the girls helped her ease into her role as a Varsity runner.
"I'm really excited," Knopp said. "I'm just glad I have so many good teammates that I can go through it with."
Knopp, who placed third in the girls Varsity race with a time of 20:43.9, was Manhattan's second runner to cross the finish line. She followed senior Ella Rosenkranz, who placed first with a time of 20:14.6 and overall contributed to a first-place team finish of 37 points.
The boys ran in a similar fashion, leaving a total of 19 points between themselves and second place. Like the girls, the boys Varsity team had a total of 37 points partially earned through a first-place finish by junior Daniel Harkin with a time of 16:17.6 and a sixth-place finish by senior Matthew Pickering, Manhattan's second runner, with a time of 17:33.0.
"I thought it went really [well]," junior Sean Anderson said. "We had a nice pack up in the front. It's definitely tough coming out of the first couple weeks of practice though."
Anderson directly followed Pickering in the race, making himself Manhattan's third runner and placing seventh with a time of 17:37.7. To see more results, go to LetsGoRun.com.
Although the team is more than happy about the results of their first meet this season, there's plenty they feel they still need to work on. Because this was the first opportunity to compete outside of practice, they know that none of their wins are guaranteed.
"I think as we're allowed to do more conventional training I think we'll be good," Melagres said. "We'll get our mileage up a little bit."
While the team as a whole will work to achieve that, the runners have individual goals of their own. For most, it's improving times. For others, it's being in the right headspace.
"We definitely slowed down toward the middle of the race," Anderson said. "I just don't think we're in the mindset yet of pushing through the course."
Despite these setbacks, the team is ready to carry this week's success into the rest of the season by improving times and mentality.
"We just had a great bonding time with our teammates right before [the race]," Knopp said. "We pumped each other up and I hope that continues through the rest of the season."
The team will compete at 9 a.m. Saturday at Emporia for the Emporia Invitational.