Boys soccer brings Junction City to mercy rules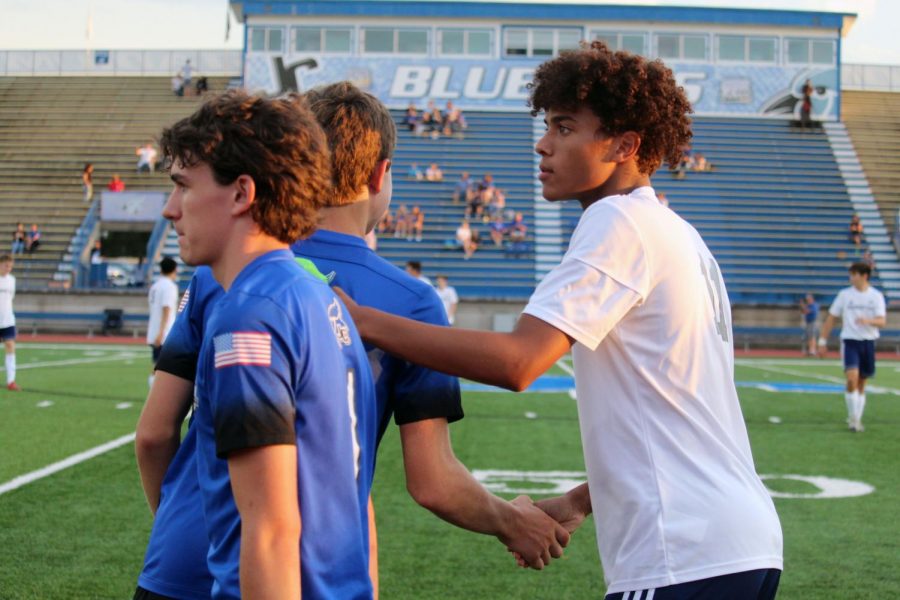 Varsity boys soccer beat Junction City High 10-0 away on Thursday night, ending the game on mercy rules 28 minutes before full time.
Manhattan High has beat JC in every game for the past seven years, or since MHS boys soccer has been recording its scores online.
"Everybody usually knows how [the Junction City] soccer game is going to go," senior Carter Wiens said.
Coming out of the Titan tournament — in which they lost two of their games but came back to win their last 3-2 — the team had four games and two wins under their belts.
"I think in the Titan tournament we weren't really … playing as a team," sophomore Ibrahim Ciftci said. "We [hadn't found] ourselves yet, but against JC … We … found ourselves as a team."
Manhattan dominated Junction throughout the game. The match started with an early goal from senior Hunter French off a deflection, then Wiens put one in with 33 minutes until the half and things took off from there.
Manhattan was 8-0 up by halftime. French scored a hat trick in the first half alone and Ciftci earned a brace in his debut start for the Varsity team, from two consecutive goals within a minute of each other. Juniors Josh Lee and Gabe Effiong both scored their first Varsity career goals.
"I think we moved the ball really [well]," Wiens said. "When we lost the ball, we'd win it back. We were really aggressive and we didn't really… give JC a chance."
Manhattan finished the game with another goal from French and then one in the back of the net from senior Roberto Maysonet-Perez to win it in the 52nd minute.
"We knew that we had to finish them as soon as possible and not … get loose after a couple goals," Ciftci said. "[We] just ke[pt] on … scoring goals until we finish[ed] the job."
Manhattan changed its starting line-up going into the game. They started the match with Ciftci in midfield, moving junior Connor Turner forward as well as returning French to a forward position.
"I think [Ciftci] did a good job," Sanchez said. "And having … French up top is nice because he's a true finisher … The boys kept up the intensity and put forth the effort that … the coaching staff has been asking for … [and] I think it really helped us dictate play."
MHS plays Great Bend away next Thursday.
"We expect to do well [against Great Bend]," Sanchez said. "[If] we come out how we've come out the last two games I think we should get the result that we're looking for."