Varsity football dominates second half in homecoming game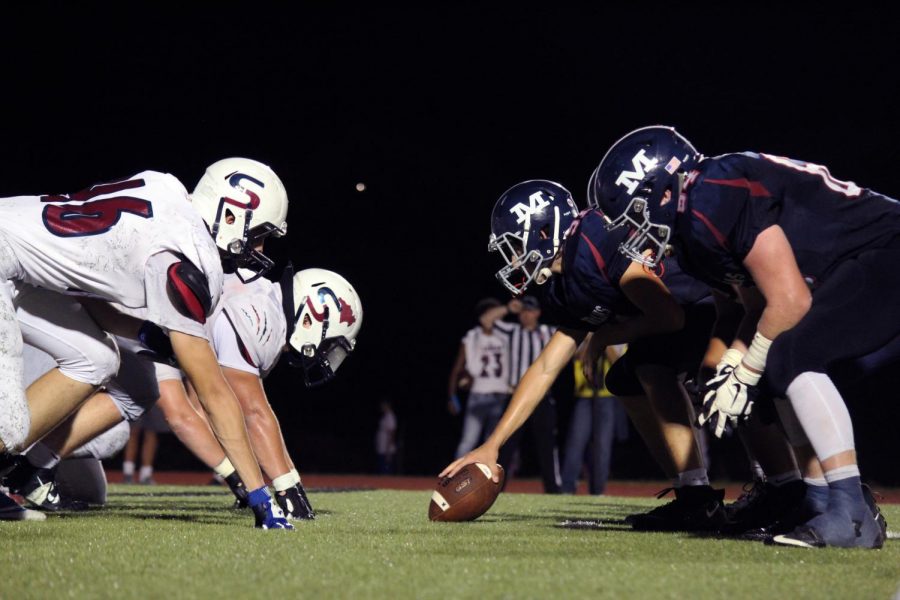 Cole Schmitt, Social Media Manager
September 23, 2019
Thanks to a strong second half from the Indians, the Manhattan High Varsity football team (2-1) defeated the Seaman Vikings 56-24 for the annual Homecoming game last Friday night.
There were stars on and off the field during the night, creating winning results from both players and coaches.
"The defense hung in there all night long," head coach Joe Schartz said. "[Defensive Coordinator Adam O'Neil] finally got through to the kids that just because they're getting first downs, don't hang your head, just keep battling and keep battling."
According to Schartz, O'Neil — who is in his second year with the Indians — also helped in preventing mistakes by dividing up their time on the field.
During the first half, Seaman was continuously getting first down after first down and put 24 points on the board in the first half. The Indians were tied up in the first quarter at 14 points and in the second quarter, Seaman gained a lead by four points.
But at halftime, that changed, as O'Neil and the defense held the Vikings to zero points while the Indian offense produced 28 to Seaman's 24.
"We got to play with energy and passion," Schartz said. "We played two quarters there and we were on top… we're kind of a victim of our own success. Over the years, these kids expect to go out and play dominant football, and we're just not there yet as a football team."
The Indians were looking to bounce back and regain their confidence after coming back from a loss at Topeka High the previous Friday night. Although the first half was a bit shaky, the team achieved their goal and got a huge win.
Junior quarterback Dayne Aschenbrenner contributed to those goals. After a first-half interception, Aschenbrenner had a rushing and passing touchdown in the second half to help Manhattan secure the win.
"We continue to get better," Schartz said. "There's still room for improvement, but [Aschenbrenner] made some nice reads and nice throws in the second half."
Part of the improvement Schartz wants to see falls in line with limiting the penalties. He wants his team to focus more and be disciplined.
"We just got to be more disciplined," Schartz said. "We got to address that in practice. You're going to get penalties from time to time because you're playing hard."
The Indians will return home this Friday night to face off with Washburn Rural. Washburn has lost all three games they have played in this year and the Indians will look to make that four.