Boys soccer progresses to regional final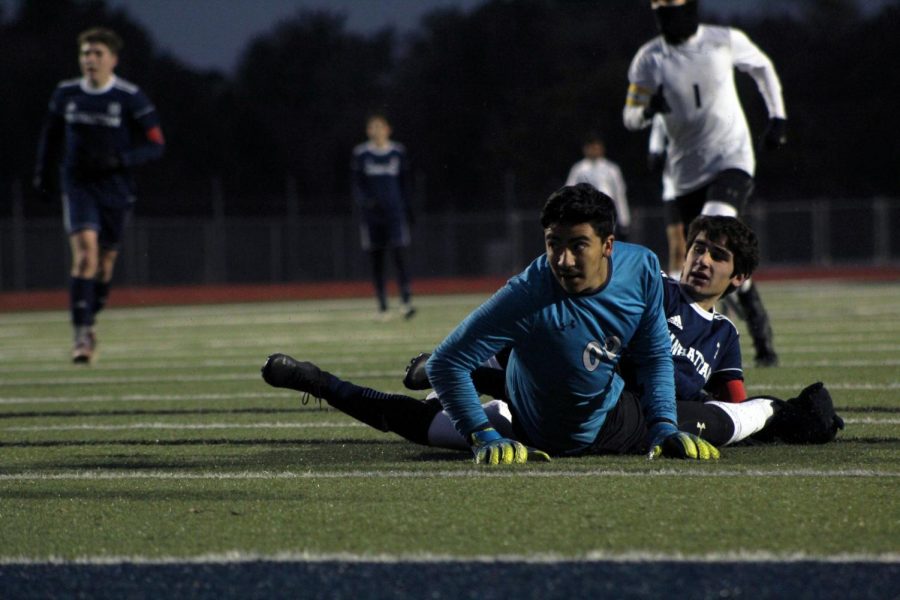 Manhattan took the 2-1 win against ninth seed Haysville Campus High School in their last home game of 2019 Tuesday night.
After playing and winning their last game of the season against Shawnee Heights 6-5 on Oct. 24, MHS ranked eighth seed at Regionals and was matched with Haysville Campus, a team foreign to Manhattan.
"We've never played this team," senior Carter Wiens said. "So we didn't really know [what to expect]."
The boys practiced in the snow on Monday in preparation of the frigid sudden-death match — their first high-stakes game of the season.
"Everything [was] on the line," head coach Mike Sanchez said. "It's win or go home so we had to step up or we were done for the year, and we weren't ready to finish our season yet."
The match started off with Campus dominating play more than was comfortable for Manhattan. However, MHS kept their clean sheet without too many close calls and chances for both sides.
Junior Michael Ohler put them on the board just fifteen minutes before the end of the first half, with
the assist
from Wiens, ending the half 1-0.
"When you're 1-0 up… a team can come back from that," Ohler said. "So you have to go back in and put it away because the other team is … going to come out with … a lot of intensity and and you need to come in with even more intensity than they do to make sure that you stay on top."
Just a minute after the whistle to start the second half, Haysville got back in the game matching the score at 1-1. However, the remainder of the game was predominantly on Campus' half with repeated corners and shots on the behalf of MHS. Junior keeper Caleb DeLoach had just one save for the entire second half.
Finishing has been Manhattan's kryptonite this season and the Haysville game was no different. Despite repeated shots, MHS couldn't put it in the back of the net until senior Hunter French got off of a corner from Wiens in the 55th minute.
MHS ran down the clock and ended the match 2-1, allowing them to progress to the regional final tomorrow night against Wichita East — who beat them 2-0 earlier in the season. If they win they will have been Regional Champions for the third consecutive year.
"We've already played them at the beginning of the season but we were a different team then," Wiens said. "We lost 2-0 then, but I think we can still beat them."