Sophomore on Varsity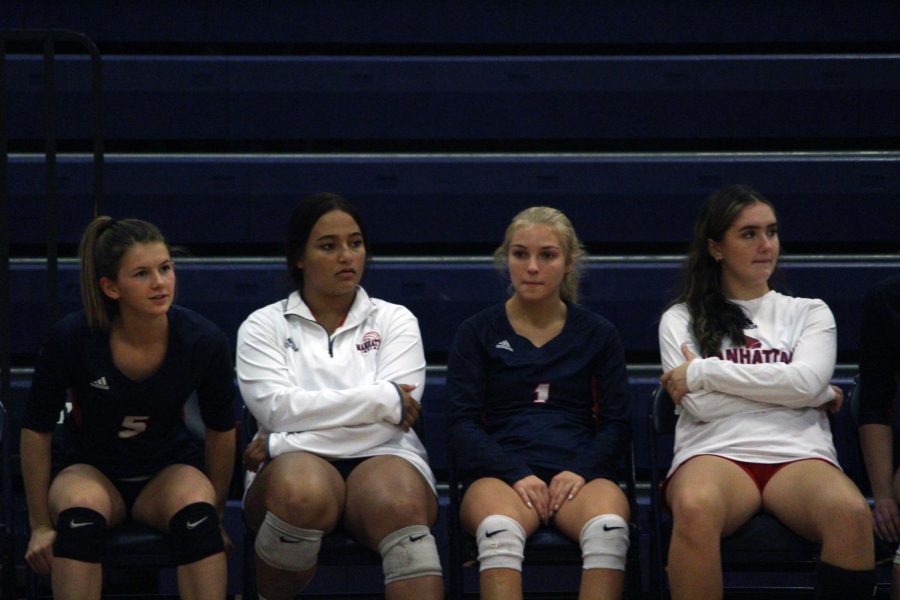 Rachel Edie, Business Manager
November 11, 2019
For most underclassmen, Varsity is nothing but a dream on the competitive teams of Manhattan High. For Monroe Say, sophomore, that dream turned into reality.
Say has been playing volleyball since elementary school. Her decision to play volleyball was influenced by watching her cousin play on the MHS team here.
"I grew up watching my cousin Kenzie play volleyball for MHS and knew it was something I wanted to do," Say said.
Say started with local Recreation Commission teams seven years ago before eventually, when middle school hit, moving on to school teams, where she played for two years on the "A" team, then transitioned to a traveling team with her aunt, Angie Miller, as the head coach. While on the traveling team — called the Jets — this year her position was a right side hitter. In the past, she has played as both an outside hitter and in the backrow.
As a right side hitter, her job is to play front and back row, as well as passing, blocking, serving and hitting.
Last year at the school, Say played for the freshman team. This year during tryouts the coaches saw something in her that made her fit just right for the team.
"I don't think I ever heard a negative thing come out of her mouth, which was exactly what the team needed," Senior Jazmin Johnson said.
Being the only underclassmen in a team of upperclassmen, Say had her work cut out for her. The experience of working closely with upperclassmen gave her the unique opportunity to play at that level.
"I am thankful for the opportunity to play at this level and I learned so much from the older girls," Say said. "I can't wait for the next two years."
The experience was similarly paired with the memories. Playing varsity meant more weekend tournaments and larger crowds. The weekend tournaments aided a longer season, which meant more playing time.
"On the court, my favorite experience was the pink out games, the energy on the court and from the student section was contagious," Say said. "Off the court, I loved traveling to Garden City and spending time with the girls outside of the gym."
The team ended their season in Garden City after losing Substate to Garden City High.
"We had a great season," Say said. "I loved being a part of Varsity and it was a great experience."
As well as getting a good experience for herself and her future, she also helped the team with her attitude and her ability as a player.
"We really appreciated her role on the team right doing that," Johnson said."It can be pretty scary being with a whole bunch of upperclassmen but she really stepped up and really brought a lot of positive activity to the team.