14 stroke improvement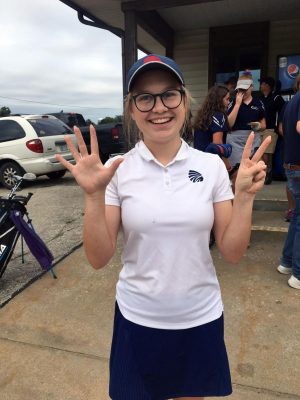 From the rain and wind to the sunny heat of Kansas, sophomore Kealyn Lhuillier has golfed through the worst and the best weather this season.
"[That] moment when I found out I scored a 52 on the last tournament that had the worst weather, … , which was a 14 stroke improvement from my prior season, [I was] so excited to reach my goal of improving my average score little by little," Lhuillier said.
The improvement in her average score has been one of her many goals as a high school golfer.
"My goal for the rest of my high school career is to continue my aspirations of improving my average score and also seeking out those people who can help me be a better golfer," Lhuillier said. "My dream is to be a part of the Varsity team and I think I can by accomplishing these goals."
But Lhuillier doesn't plan on accomplishing these goals on her own. With her family, friends and coaches supporting her golf career, Lhuillier has enough support to last her golf career.
"My grandpa has a deep passion for golf and he was the one who convinced me to go out for the team freshman year. My mom is also a role model. She is a mother of five and has a lot of stress in her life. But she persists and tries her best at everything she does," Lhuillier said. "This really inspires me when it comes to golf and other aspects of my life as well. My coaches have also been instrumental in my improvement at golf. They always offer me new techniques and encouragements when times were tough on the course."
Using her role models' leadership and example, Lhuillier carved her way into the Manhattan High School's golf team and continues to challenge herself through her sports.
"The mental challenge was my favorite part. It's very easy to get furious and give up in this sport but I find that these moments have strengthened my ability to be positive and overcome challenges as they come," Lhuillier said. "There will be moments when you will want to give up, but don't. Persist because when you get to the end of the tunnel and look back, you'll see that it was worth it. Also be positive. I know this sounds cliche but positivity really is key. Try it out and you'll see how better you play."