Swim and Dive takes third in Topeka Invite
Anika Nyp , Blue M Editor-in-Chief
December 11, 2019
Through the yelling crowds and the sounds of the starting buzzer, the Manhattan High swimmers dived into the chilling waters at the Topeka Capitol Federal Natatorium for a third-place finish at their first meet. The team's third-place came from 429 points, right behind Washburn Rural and Olathe West.
"I thought it went well overall," head coach Alex Brown said. "We had lots of people in their first meet ever and a lot of people with best times or major time drops."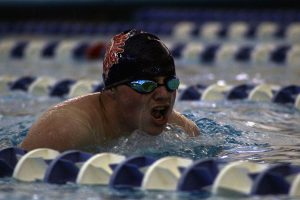 With a big team this year, this was the first year most of the swimmers competed in a high school meet.
"Josh Fan had the biggest time drops of anyone in both his races. He impressed me," Brown said. "I was really impressed with Mason Alberto and Cade McNeil. They're both seniors [who are] brand new to the sport. They both had huge time drops [of] six to seven seconds …"
Both Junior Varsity and Varsity teams had major time drops ranging from around five to seven seconds, less than their time trial times.
"[Senior] Chris Chae had a really nice meet. He had some of the best times and for me one when he's not all the way back in shape that's a really good time," Brown said. "Brandon [Speilman, senior], Hunter [Rey, junior], are our top two points scores Zeke [Kohl, sophomore], won diving so that was a lot of points."
With all of the good time drops happening the team couldn't help but notice the event they struggled in was backstroke.
"We just don't have very many people we only have a couple of people that specialize in backstroke," Brown said, "so I have to kind of adjust and put people in back that that's not their specialty because we need people to fill it."
This team is also prioritizing coming together as a team and bonding over swim.
"Leadership's been pretty good so far," Brown said. "Everyone's behaving really well, everyone's working pretty hard for the most part, and our leaders just kind of expect them to do everything and do it well it doesn't just have to come from me, which is good and I think coming into the season, that's going to pay off a lot and already has started to already saw a lot of people improve are excited to see how much further that can go."
Part of being a leader of the team is to include everyone.
"I really liked the energy and positivity on the team," freshman Mitchell Bunger said. "I feel we all did well. I really enjoy it and I'm really excited to swim."
Not only did the new teammates have to adjust to the excitement of meets but also to their team as a whole.
"There's lots of new swimmers this year but this week will definitely bring us together and the other captains, seniors and I plan to work on it," senior captain Xander Say said. "We have big hopes for future meets but we have a lot of talent and that showed in the 200 free relay."
This week the team has their first home meet on Wednesday at the Kansas State Natatorium and on Friday in Olathe.