Club offers chance to broaden mathematical horizons and meet new people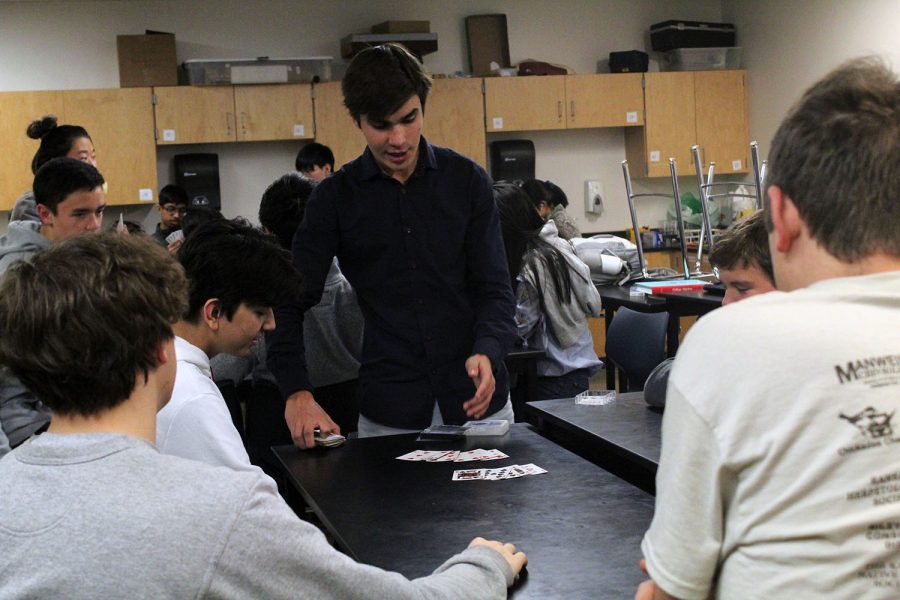 Hannah Loub, Junior Copy Editor
December 17, 2019
If you're looking for a chance to learn something new about math or play some unique games, then Math Club is a good idea for your Thursday after school destination. It started two years ago when Styopa Zharkov, a then-sophomore, realized there wasn't anything math-related on the list of clubs.
"We had this group where we practiced for competitions every… Wednesday after school," Zharkov said. "But then, we decided it would be cool to make it into a club when we introduce competitions to the school."
At last week's meeting, the diverse groups of students crowded around tables in math teacher Ted Dawdy's classroom, eating chips and salsa. Zharkov, club president, stood at the front of the room and made announcements before everyone started playing a card game with their group.
"Half the weeks are lecture, so either myself or somebody else, we lead a lecture about some interesting math topic," Zharkov said. "And then, the other half of the weeks, it's kind of like the chill weeks where we play games, play some logic games, and organize competitions."
Last week was one of those "chill weeks" and it was definitely chill, if not a bit chaotic.
"We learn a lot that's not really taught inside the classroom," sophomore Abdullah Rasheed said, "a lot of abstract ideas that you wouldn't really see anywhere else."