IPS strives to improve community, let others know they care about them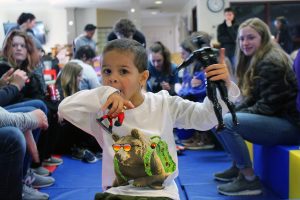 Christmas came late for the children at Job Corps thanks to a rescheduled gift delivery from the Interpersonal Skills students on Jan. 9.
The class intended on going before Christmas break, but due to the weather, it was pushed back. They went and delivered presents to the kids of the single parents that stayed at Job Corps.
"At Job Corps they have a program called the single parents program, students that want to come there to learn a skill, some of them that come there have children," Eric Eklund, the teacher of IPS, said.
According to Eklund, the purpose of this service event fits with the main objective of IPS to "inspire a desire for being a positive, proactive member of whatever community they end up in."
The single parents within the program can't always afford items that others are regularly able to.
According to Eklund, "The single parents of the children aren't always able to afford items such as new clothes and the class decided to go out and buy these gifts for them."
He and around 50 students went to Walmart and bought gifts for the kids and delivered them
"We before Christmas, all go shopping together as a class and we have a list of the kids their sizes, things they like and whatnot and we buy presents for them. Wrap them and then deliver them," Eklund said.
The faces of the excited children as they received a gift was one aspect of the trip that everyone seemed to enjoy.
"We were able to open the gifts with them and see all the little kids be incredibly happy to have something extra for Christmas," senior Aaron Hoff said.
This class also helps the students. It encourages them to help in the community and they grow closer and build relationships.
"You almost feel as if the people in that class are family," Hoff said.
IPS does fundraising not only for their class, but also for organizations such as the emergency shelter and crisis center. They do donations every home basketball game, but their main focus is on volunteering and being out in the community.
"Really the main premise of the class which leads to the things I was talking about is being out in the community, and volunteering," Eklund said. "We do raise money, not only for our class but we also raise money for other organizations, we raise money for the crisis center, the emergency shelter."
Students feel more welcomed in this class and it gives them that feeling of comfort.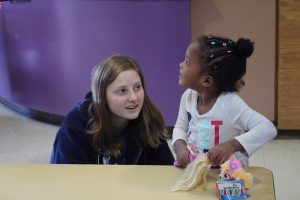 "I felt like so welcome, I get really nervous and that like really opened me up," senior Lakesha Randloph said.
They are currently working on another field trip but are keeping it quiet and waiting until they know for sure that it will happen to disclose the event.
"I'm trying to coordinate a field trip but I can't say what, I don't want to reveal it if it doesn't work out," Hoff said.
The IPS class is determined to make a mark on this community and encourage others to build relationships and help out in the community.
"We really like to try to develop relationships in the community and meet more people and have a bigger footprint," Eklund said.