Student teacher builds bonds with classes
As the new semester kicks off, new student interns from Kansas State University join classrooms to further their learning and grow to become a true teacher.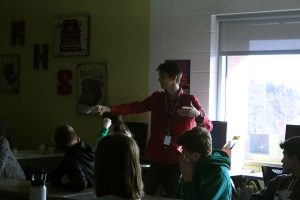 "Right now it's kind of an introductory phase," business teacher Paige McCarthy's current student-teacher Brock Leroux said. "The first couple of weeks [McCarthy] shows [students] what classes [are about], her path and the courses. Eventually, as the weeks go on I will fully take over all [of] her classes. I will be teaching [and] making lesson plans."
Before coming to MHS as an intern, Leroux took block courses which required him to come to the school once a week and observe teaching.
"I think that it's really important that [student teachers] learn the curriculum," McCarthy said. "The student interns kind of put their own spin on [teaching] and teach it not necessarily the way I would, but as long as they learn the concepts, [they can] do [it] in their own style."
Leroux didn't always want to be a teacher, but he decided it was the right choice for him. Despite never being in a big school, he came to MHS to learn about how to teach activities, how to be good at teaching and what daily life of a teacher looks like. He is currently the only student teacher in the business department at MHS, teaching classes at West and East campus.
"[I want to be] a really good mentor. I want to hold kids accountable, but I also want to be someone that they can come to if they need anything," Leroux said.
Along with planning on teaching business topics such as marketing, Leroux also wants to become a basketball coach.
"I really hope I can kind of push through and show them kind of [a] closer view [of] what education can do for you," Leroux said. "It's really important that I can really connect [with] them and give good lessons."
Student teachers in the classroom create a unique experience for students, as most student teachers are younger and can better relate with the students.
"I think [student teachers] should try and put themselves in our shoes," sophomore Claire Shamburg said. "They've been through high school and [they should] just try to be friends with us."
Though Leroux has only been here for a couple of days, he has already connected with students in a way that makes the experience of being in a classroom for an hour more enjoyable.
"[Leroux is] really funny, and he keeps me happy and not tired," sophomore Kendal Proctor, who is currently enrolled in Business Communications, said. "He laughs a lot and makes jokes."
It's also important for a student teacher to find a way to communicate with the students.
"He's really interactive with us and he [has] done a lot so far to get to know everybody," senior Mikey Soberano said.
It can be difficult to start hands-on teaching right away, but students can support student teachers and help them develop the skills they need for their future classrooms.
"We're learning to [teach] so it helps when we have really good students, and I have had the pleasure of having really good students in all my classes," Leroux said. "[If students] help student teachers out, [they will] help you out."