Soccer ends season against WaRu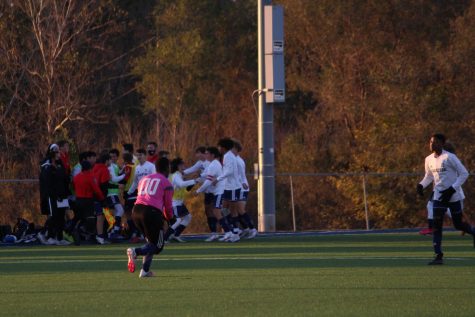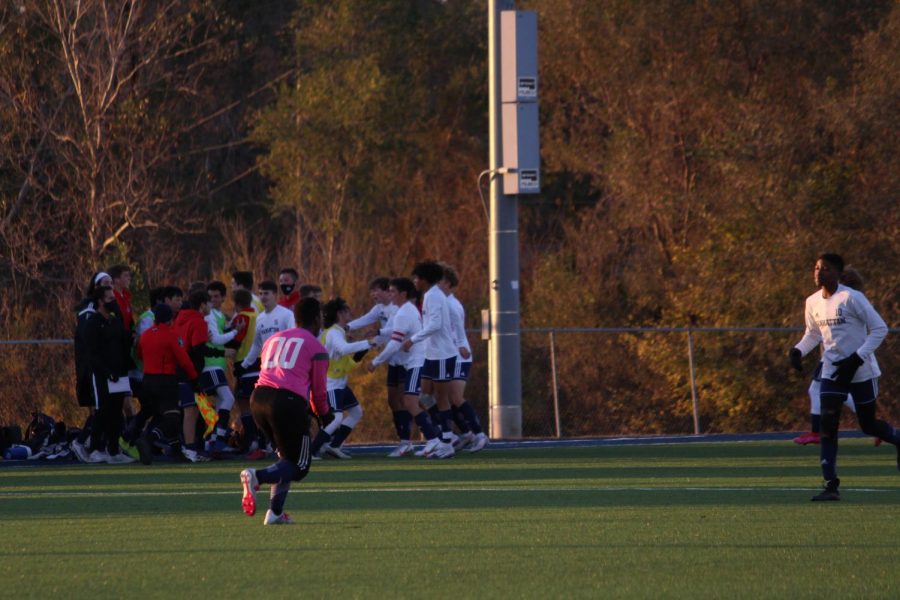 Boys soccer finished their season away against Washburn Rural on Thursday, losing in the Regional final 2-3 after beating Topeka High earlier in the week. The boys ended their season 10-1-6.
Washburn Rural was expected to be a difficult game, as MHS hasn't won against them since 2013. Rural had already beaten Manhattan earlier in the season 1-0.
"I wasn't that nervous [going in]," senior Connor Turner said. "I think we were all confident that we were going to win the game."
Manhattan came out with the intensity they'd been lacking all season, playing every minute of the match. They took the lead eight minutes in with a goal from junior Grant Snowden, his 17th goal this season.
"The intensity was probably the best we've ever had, this season and in my high school career to be honest," Turner said.
Washburn equalized off of a set piece ten minutes later, then took the lead themselves off of a questionable penalty called on senior Colton Frieling.
Washburn's set pieces and long throw-ins have always been difficult for Manhattan — and apparently other Centennial League teams, Rural have been league champions 26 years in a row — to defend against. To Manhattan's disadvantage, the referee called any rough play a foul, giving Washburn plenty of opportunities.
Manhattan made it 2-2 five minutes after Washburn's penalty off of a goal from Turner that bounced over the keeper's head.
"It felt really good," Turner said. "I thought we were going to win after that."
Manhattan continued to play hard throughout the second half. Though MHS wasn't without their chances, they spent more time in their half than the Washburn's.
With five minutes left in the game, the Blues scored their winning goal.
"We just tried to come back [after that]," Turner said. "We always said, don't let it get us down just try and come back."
At the final whistle the players sank to their knees. The team included 19 seniors, making the loss a particularly hard one.
"We left everything out there," Turner said. "It was a great season and I'm proud to finish with my brothers."
They took the win against Topeka High 5-1 in the first round of regionals last Tuesday, MHS was confident going into the match after beating the Trojans earlier in the season 2-0, but took nothing for granted.
"I didn't want us to go in there thinking it's just going to be a walk in the park," head coach Mike Sanchez said. "We're really striving to play well, and not underestimate any team. We want to treat every team the same."
The first half was scoreless, though Manhattan clearly had the advantage. MHS came out fairly slow and didn't capitalize on their chances.
"Early on, I think we got a little into our heads. Went in a little overconfident," senior Micheal Ohler said. "I think that definitely turned around in the second half."
Senior Colton Frieling put MHS in front 10 minutes into the second, but the Trojans caught them off guard immediately after tying it up 1-1.
"We let up for about 30 seconds and gave up a goal," Sanchez said. "So we just don't want to get comfortable."
Topeka's goal seemed to be a wake-up call for the boys, as they immediately picked up the pace. Manhattan didn't wait long to take the lead again, and Ohler scored to make it 2-1 three minutes after the equalizer from an assist by senior Cole Schmitt.
"I think overall [doing better in the second] was just because the work ethic shot up a ton," Ohler said. "We just the passing was better, runs were better, we were less static on the field so I think just overall the movement in work ethic was a big part of that."
Topeka was still in it until the last 10 minutes, when MHS scored three successive goals. Two from junior Grant Snowden and one from freshman Ged Comiso, ending the game 5-1. Schmitt also had his 26th assist to Snowden's first goal, putting him in fourth for career assists in MHS boys soccer program history.