Wrestling defeats Great Bend, competes at Riley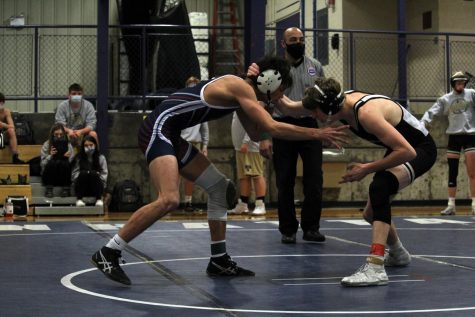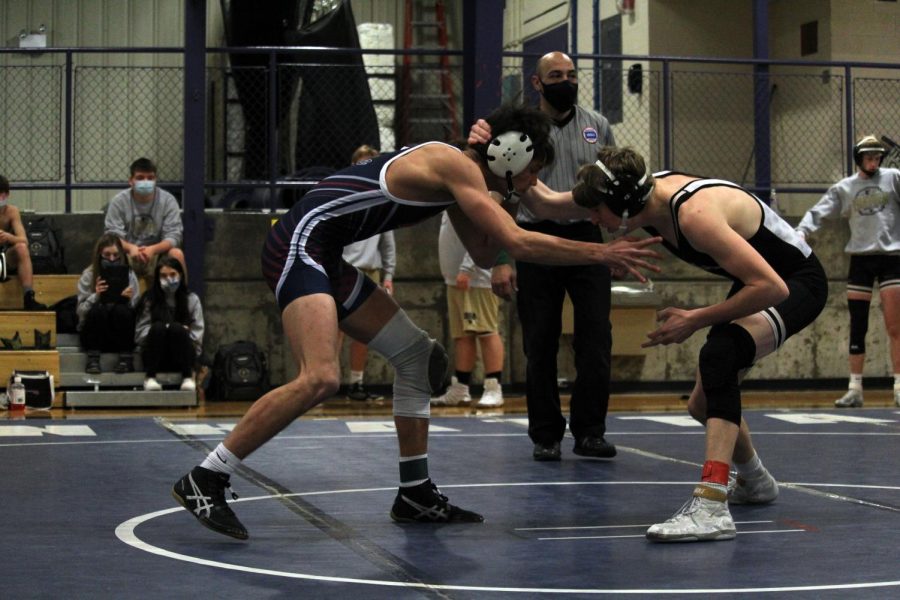 Manhattan High wrestling competed in their first two events, a dual against Great Bend and the Riley County quad, this week.
MHS took a narrow win from the Panthers at home Thursday in the first competition of the season 42-39. They came back to win the dual after Great Bend forfeited their last two matches due to empty weights.
Great Bend is usually a difficult opponent for Manhattan, despite being a smaller school at 5A. Both teams had three ranked wrestlers in their respective weights and classes, but none of them faced each other. For Manhattan ranked wrestlers junior Easton Taylor no. 1 at #132, senior Damian Ilalio no. 1 at #285 and junior Blaisen Bammes no. 3 at #145 all won their matches by forfeit or fall. Great Bend's ranked athletes also earned their team six points against #106 sophomore Charles Fitzgerald, #113 sophomore Issac Lopez and #138 junior Tucker Brunner.
"Last year we got our butts handed to us, their team last year was full of seniors and we were a fresh team," junior TJ Tiede said. "But this year we did a lot better. There's still a ton of things that we need to work on though."
The team fell short in the lower weights this dual, partly due to difficult competition with two of Great Bend's lightweights ranked, and also because of inexperienced younger wrestlers taking on Varsity positions in the lower weights. They didn't pick up a win until Taylor's pin in the fifth match, putting them behind 24-0. They came back from below in the upper weights, with Bammes, sophomore #152 Devin Siebert, #160 junior Saben Williams and Tiede all winning by fall.
"We've got some young guys stepping in for us," assistant coach Shawn Bammes said. "Our older, experienced guys stepped up and did the job they needed to do to make sure it can happen. We're young, we got some young spots but our leadership did what they needed to do."
The dual was decided in the last match — Tiede vs. Great Bend's Keyven Schroeder at #195 — when Manhattan was down 24-39. If Tiede had been pinned the dual would have ended in a draw, 36-36, but he pulled through winning by fall at 4:44.
"It was a really close round," Tiede said. "I've always been terrible for Varsity… so I'd say that it's a huge improvement from last year, but there's always stuff that I can work on."
The team went to Riley County High quad this Saturday. They won two of their three duals against Topeka-Seaman and Clay Center, but fell to Andover.
"I feel we could have done a little better," junior Janzten Borge said. "There were a lot of things we were doing that we shouldn't have been doing. These past couple practices we've been working on moves, and at the meet we weren't really using them."
The boys dominated their first opponent, Seaman, with sophomore Issac Lopez and juniors Tucker Brunner and Talique Houston picking up their first wins of the season. The team won 45-24. Their second opponent, Andover, proved to be a difficult team. Only Manhattan's ranked wrestlers won their matches and the final team score was 55-17.
"The teams that we wrestle are very competitive, so that's something we have to take into consideration," Borge said. "We didn't do the best this year just because of all the people we've lost that have graduated already."
They came back to win their last dual against Clay Center in a tight competition. They ultimately won 36-33.
They have their first home quad this Saturday and expect some tough competition from Paola, Topeka-Shawnee Heights and Smith Center, which will be livestreamed on The Mentor's YouTube channel.