Boys Basketball falls short in game one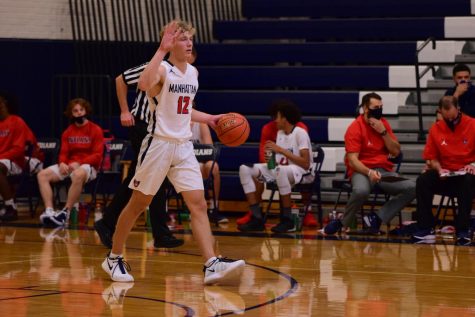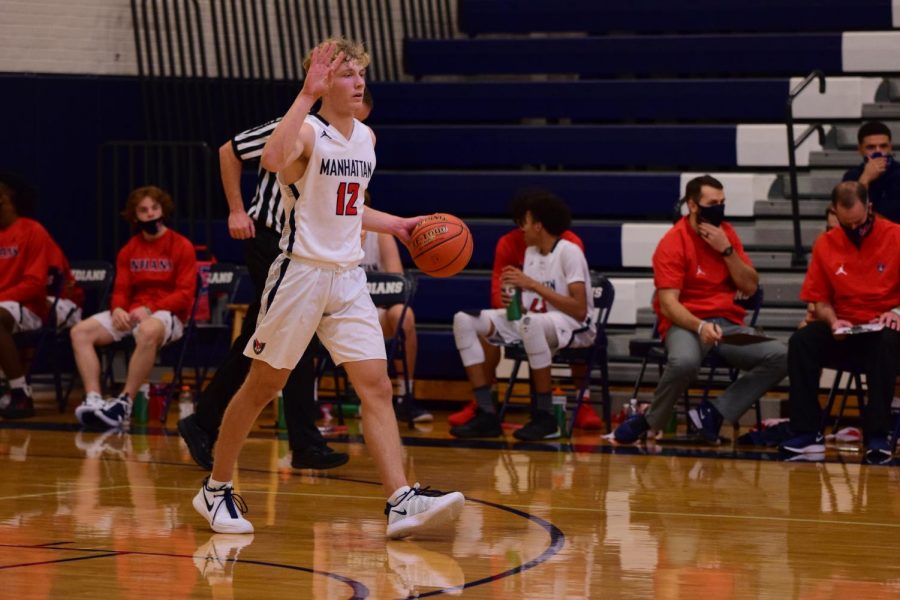 The Manhattan Boys Basketball team came out second best last Friday night in an early season competition with Lawrence High, 46-64. Although the team lost by double digits, the scoreline didn't reflect the game as the Indians were right with the Lions throughout.
"Coming into the first game there are always a lot of unknowns," senior Brett Wilcoxson said. "Especially when replacing eight seniors, I felt we competed very well. Obviously we missed a ton of shots, but with time I feel that won't be a problem because we have so many different guys who can shoot the ball."
The team was 25% shooting from three and 33% from inside the arc. That was the main point of the loss according to the players.
"We did a good job for the most part," senior Owen Braxmeyer said. "I thought the sophomores and juniors played well for us, and we had good senior leadership on the floor. But our shots were falling."
Many underclassmen were present in the game on Saturday. According to head coach Benji George they will have a "huge" impact on this year's team, and they proved him right in the first bout.
"Lawrence was a solid team," Braxmeyer said. "They had some good players and a D1 commit. He was pretty solid. We couldn't figure out how to lock him up, but I think [Cade] Perkins did a good job."
The Indians will be back at home this Friday to face off with the Hayden Wildcats.
"The only way from here is up," Braxmeyer said. "We just fell apart defensively [on Saturday]. We got tired and weren't hustling back on defense, and that's something we need to improve on."