Girls basketball wins season starter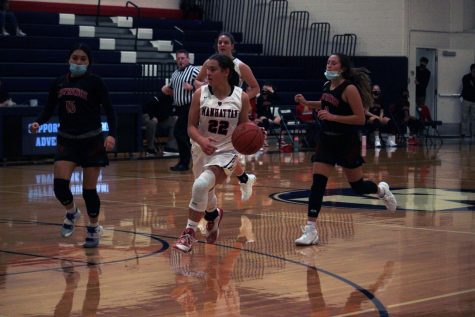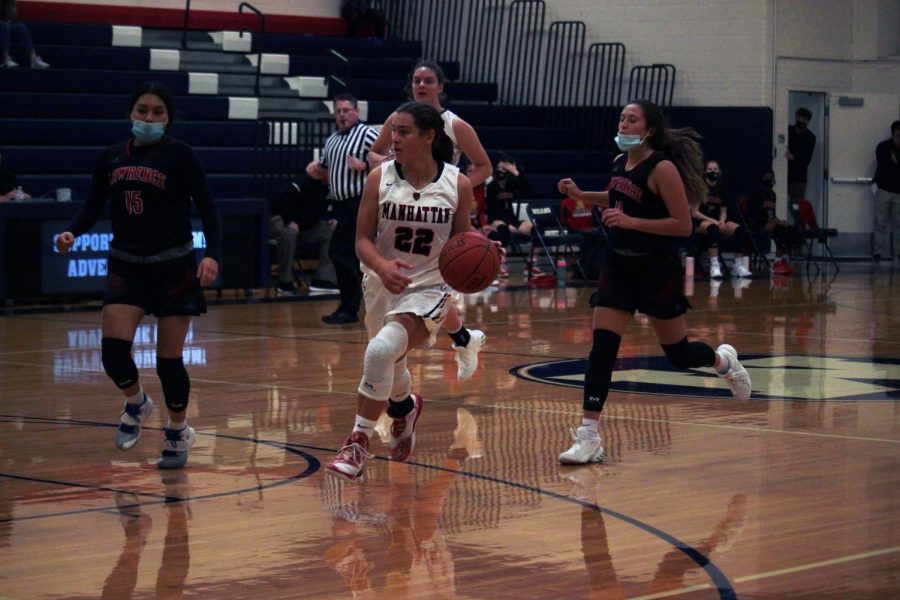 After a neck and neck game against Lawrence, the Manhattan High Varsity girls basketball team won their first game of the season 54-42.
"I feel like this year we have good chemistry and there's lots of senior leadership that just helped the team to … get together and focus [and] be more as one [instead of] everybody focus[ing] on themselves," sophomore Avery Larson said.
The starters leading into the first quarter were seniors Gillian Awbrey and Taylor Claussen, junior Grace Dixon and sophomores Destiny Yates and Larson. It wasn't until the six-minute mark that Dixon put in the first score, a two-point basket, of the night. Manhattan proceeded to lead 6-2 before Lawrence came back with 11 points straight, including a three-pointer.
"The beginning of the game we were down about six points," junior Grace Dixon said. "We just kept turning the ball over and not being smart on offense or defense."
From there, the race for the lead was on. Manhattan secured the final lead in the third quarter, but not before a total of six lead changes and three ties.
"Obviously, the defense hopefully always determines things," head coach Scott Mall said. "There [were] a lot of turnovers on both sides and I think it helped us that they had a few more turnovers than we did."
In the fourth quarter, Manhattan secured a 10-point lead at 50-40, with about three minutes left in the game. For a minute and a half, the team successfully ran down the clock. After a missed free throw, Manhattan shaved off another 30 seconds, all while keeping the ball in possession.
"At that point, I think we want to kind of control things and try to make less of a chance of them getting a comeback," Mall said. "They made some fouls, so they got some possessions back, but for something we hadn't really worked on a whole lot our girls did a really good job with it."
Lawrence managed another two points while Manhattan added on four points before the end of the game, winning by a 12-point lead 54-42.
"Going into the [second] half, we knew that we had to do better," Larson said. "It feels good to … go out as a team and just perform well [and] to get our first win under our belts."
Larson contributed 14 of those points by the end of the night.
"It feels good," Larson said. "A lot of those points were … second, third efforts by the team that … found their way to me and I was glad I was able to … finish on a lot of those."
Dixon added 12 of those points, with Yates not far behind with 11. Together, they made up nearly 69% of the team's final score.
"It was great, especially for my first time starting a Varsity game," Dixon said. "My teammates really helped and gave me the ball a lot down low. I think we played as a team."
With a new team, experienced and new players alike are evolving into assets.
"[We're] replacing four seniors and a couple other girls that are out for injuries," Mall said. "It was important that we get that leadership and that steadiness from our experienced players and then … we have a lot of new players that are going to have to step in and do things for us."
Early into the season, defensive and offensive plays both need work. Though notably defense requires tweaking.
"I think going into our next game and going into the week, we really need to work on our … defense a lot," Larson said. "That was kind of something we struggled with I think going … into the game, [such as] letting drives happen or … picking up the same girl as somebody else [to block]."
Manhattan next plays Hayden at home this Friday at 6:15 p.m.
"I think we have a lot more confidence and got the first game jitters out," Dixon said. "Now we just have to put in a lot of work this next week to get prepared. But we are ready."