Boys basketball back to .500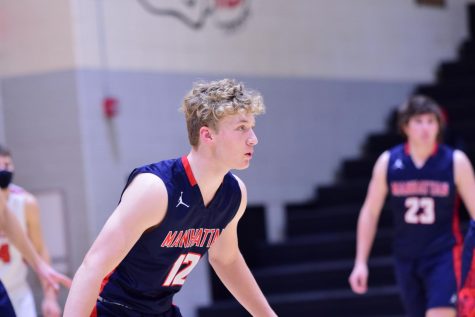 The Manhattan boys basketball team is 6-6 after last week, which is a step in the right direction after starting the week off with a losing record. The Indians were on their A-game all week.
They defeated Topeka High on Tuesday, demolished Emporia away from home on Saturday and came up just short on Friday at The Nest in Junction City losing by a point. According to the team ,though, the week was a good one and they're looking to build off of it.
"I think we could have beat [Junction City] by hitting more free throws and going in and crashing the boards harder and rebounding," senior Brett Wilcoxson said.
The team missed more than five free throws which proved pivotal as the Blue Jays won by only one point.
Besides the Junction City game, the team was on a high the rest of the week, defeating two teams they lost to at home last season. Topeka High and Emporia were key wins to determine standings in the postseason.
"I think that everybody had good energy," Wilcoxson said. "We brought our defense to life and everything the coach has been wanting us to bring to life I thought we did last Saturday, and hopefully we can keep it going this week."
Senior Mason Reid had the tough task of guarding Emporia's Charles Snyder, who averages double-digits in scoring and put up close to 30 on the Indians last year on their way to a win in the Little Apple. This year's script was different though. Reid held Snyder to 10 points in route to a big victory by 24.
"[Reid] did a great job against Charles," junior Cade Perkins. "I think everybody on the team was proud of him and he did just what the coach had asked of him. Him limiting Charles' points helped us as a team on defense. That was good."
The Indians will now head into their fourth straight three-game-week, which differs to the normal two games a week schedule. They'll host Topeka West on Tuesday and Emporia again on Friday, while traveling in-between those games to Topeka High.
"[The goal] is obviously to go 3-0 and hopefully get revenge on T-High," Perkins said. "We just have to have a good week, take it one game at a time."
"I think we just need to keep on the momentum that we have built at the moment," Wilcoxson said. "If we keep sharing the ball as a team, getting more open shots and keep playing defense [we'll be good]. Our defense needs to keep pushing the pace, push the ball, and just keep playing as a team and I think good things will go our way."