AFS holds exchange students scavenger hunt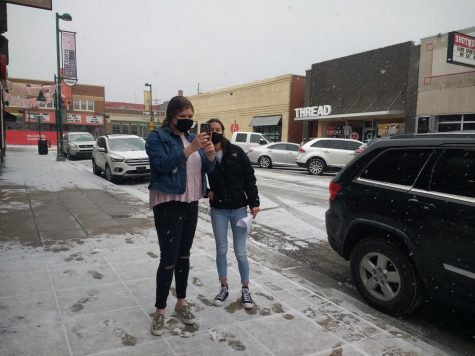 AFS club members participated in a Manhattan scavenger hunt Saturday morning, in order to show Zoomed in foreign exchange students what life in MHK is like.
"We started in December looking at different options [for an activity]," AFS sponsor Tony Wichmann said. "We actually found a program called Goose Chase that you can actually go on a scavenger hunt and take pictures on their app, and then it tallies that up and makes it a competition. So we just took that idea and made it into a Zoom."
Students involved in AFS club drove around Manhattan taking pictures of places they like to spend time, and that show the culture of the town. They then shared the photos with exchange students on Zoom and talked about their experience living in the United States.
"We looked at six different things that we can look at, to try to merge into culture, as well as just what Manhattan looks like for normal students," Wichmann said.
Due to COVID-19, there are no exchange students at Manhattan High this year. AFS is attempting to keep foreign students connected through virtual activities like this one.
The Zoom hosted students involved in exchange programs FLEX, YES and AFS from across Europe, Asia, the Middle East and Africa.
"I really liked all of it," AFS vice president Brianna Dowling said. "It's definitely just a way to try and connect… if the exchange students were in person we do different activities like… a bonfire or playing sand volleyball."
The groups each shared about their daily lives as teenagers living across the globe, including what foods they liked and their future plans. A common theme was how American culture had influenced other countries across the world.
"I was really [surprised]," Dowling said. "Especially when they were talking about their food, for their favorite foods and they named American restaurants as their favorite which surprised me."
One thing all of the students had in common was the impact of COVID-19 on their lives and education. Schooling ranged from all-remote to all in-person to hybrid.
"The two girls that were from Jordan they both are only doing online school, but they start in person in two weeks," Dowling said. "But then the other two girls, they both were in person, but I think they got out of school in March, like we did."
Though all of the students on Zoom had access to technology, made of their home countries do not have the same access US schools do to virtual education.
"We're actually hosting a student from Mozambique, and he goes to school twice a week but the majority of the time he's at home," Wichmann said. "[But] they don't have the technology that really is as advanced as ours so it's hard… we didn't have the technology to start off with too, but we have at the least the money to be able to make it happen… and some countries don't have the economy to be able to make it happen."
AFS hopes to continue to host virtual activities this year.
"I think it's a neat activity," Wichmann said. "Hopefully we can do more."