Varsity tennis second at Emporia Invite
The Manhattan High Varsity girls tennis team placed second behind Blue Valley at the competitive Emporia Invitational on Saturday. The team faced Blue Valley, Andover, Derby, St. James Academy, Conway Springs, Lawrence High and Emporia.
Junior Jillian Harkin (No. 1 singles) took first individually by earning a record of 4-0 (8-0, 8-0, 8-0, 8-5).
Junior Maura Wiens, the No. 2 singles player, placed sixth overall with a record of 2-2 (8-1, 7-8 (6), 8-1, 5-8).
Senior Ava Bahr and junior Jessica Zhang formed the No. 1 doubles team. The duo went 2-2 on the day, taking fourth place (8-4, 8-2, 2-8, 5-8).
"We were just ready for the challenge and we had a lot of time to prepare the past week, so we got some good drills and reps in," Bahr said.
Finally, juniors Erin Craft and Sophia Evangelidis took ninth place as the No. 2 doubles team, leaving with a record of 3-1 (1-8, 8-6, 8-4, 8-2).
"I wasn't expecting to be at our best since we haven't played together long, but I feel we did a good job," Craft said. "My goal is to improve my fitness and consistency."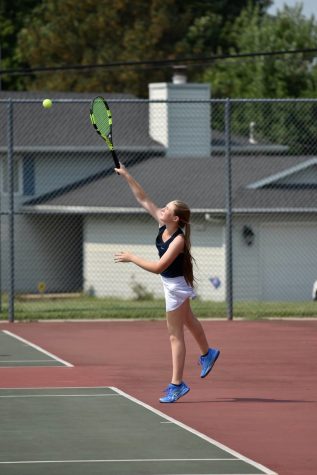 According to head coach Tony Ingram, Saturday's matches were an opportunity to face tougher competition than last week.
"Our schedule gradually becomes more difficult with better competition," Ingram said. "So it took it up a notch … competition-wise."
Both Varsity and Junior Varsity teams competed, so the invitational took nearly nine hours. According to Ingram, the long day helped him to see areas in which the girls can improve.
"As the day progresses, your competition is going to get either a lot like you — and it creates longer points — or a lot tougher as the day goes on," Ingram said. "[Our girls] have got to treat themselves like athletes…and take care of sleep and hydration, and eating right to compete, especially with the heat."
The team will next compete in the Manhattan Quad at the Kansas State University Tennis Facility on Tuesday, Sept. 14. This will be their only chance to compete at home this season.
"We are excited to have friends and family come watch," Bahr said. "And Washburn [Rural] is going to be there, so there will definitely be some good competition."