Positive impact of competitive gymnastics, cheer for MHS students
Cheer, gymnastics or a mixture of both guide the lives of freshman Emma Crouch, sophomore Laura Shamburg and junior Kaylee Kurman.
"I've learned that you have to put in the work … You can't just expect to go to practices, [which we have] practice once a week, and … just expect to pick everything up," Shamburg said. "I have to go home and practice to make the team the best I can and I don't want the team failing because of me."
Shamburg participates in both cheer and gymnastics. She started gymnastics at the age of 10 at the Manhattan Gymnastics Academy. In her freshman year of high school, she joined the Manhattan High cheer team. As of today, Shamburg is part of the Topeka Elite Cheer program and the CATTS Gymnastics and Dance program in Wamego.
"When I went to [the] Manhattan Gymnastics Academy, I made really good friends. [Then], my gymnastics coach passed away with cancer, so that was kind of hard," Shamburg said, "but when I switched over to CATTS, it was just like a really good experience [and] I think it was the best decision for me and … I love the people there and the coaches."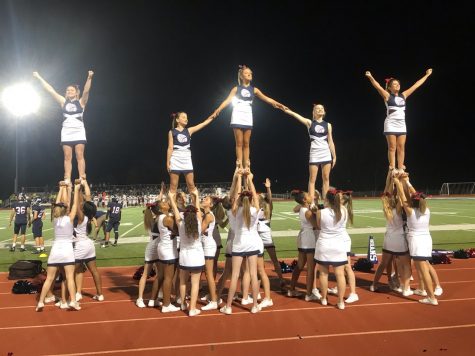 Crouch is also involved in more than one sport: gymnastics and golf. At just two or three years old, she was in the gym taking classes and hasn't stopped since. As a member of a military family, Crouch has participated in gymnastics in Washington, Tennessee and Kansas. Today, she competes for the Manhattan Gymnastics Academy.
"My favorite event currently, [and it] changes like every week, [but] I kind of like bars right now," Crouch said, "which nobody ever says that because that's the scariest event, the hardest event."
Currently, Crouch carpools to golf practice after school until around 6 p.m. then goes straight from golf to gymnastics for another couple of hours. On top of that, Crouch is part of both the Junior Varsity and Varsity golf teams, thus she frequently misses both school and gymnastics for tournaments.
"It's rough. [My carpool driver is] kind of my ride or die because [she] takes me everywhere," Crouch said. "It's a little rough sometimes with homework. I've had to skip gym sometimes because of homework and it really makes me annoyed [and] sad because I love gym."
Kurman, on the other hand, is strictly involved in cheer for both the Varsity football and Varsity basketball team as well as the competition cheer team. She has been cheering since eighth grade and as of her junior year in high school, Kurman has finally made the Varsity cheer team.
"My favorite memory is probably opening my letter that I made Varsity because [that] was really … exciting for me," Kurman said. "I just really wanted to be in front of the big student section at the games."
This school year, Kurman is a flyer and part of the stunt group for competition cheer team. For Kurman, her favorite part of cheer is "working with all the girls" and getting "to know people."
"I really just … feel like cheer should be … looked [at] more as a sport than just an activity," Kurman said. "I feel like all the sweat and all the tears and everything that goes through practice [is something] people don't see [because] it's … behind the scenes."
Both cheer and gymnastics provide several opportunities for learning, which can be applied to school and life.
"I would say I've learned … time management. [It's] always [been] my biggest [struggle] because it's a lot, 12 hours a week," Shamburg said. "School is easier to manage … in middle school, it's hard in high school, but I think it's taught me good lessons … It's not always easy, you'll get mental blocks [but] you have to figure out how to work through those."