Varsity tennis finishes season fifth at State
Harkin wins singles championship
The Manhattan High School Varsity girls tennis team concluded its season with a fifth place finish at State this weekend in Wichita. No. 1 singles player junior Jillian Harkin became the second singles state champion in MHS history, defeating Blue Valley Northwest's top player 6-4, 6-4.
"When [the opponent] hit the ball out and I won the [last] point, I was just so excited," Harkin said. "I had so many emotions that I couldn't even pinpoint what they were."
Harkin, the only MHS player this season to make it to day two of the tournament, has a high school career record of 102-4. According to Harkin, building up to state-champion-caliber tennis took countless hours of hard work, practice and perseverance.
"I've had this goal since day one of my freshman practices," Harkin said. "It's been my goal for all three of my seasons so I'm really glad it worked out this year."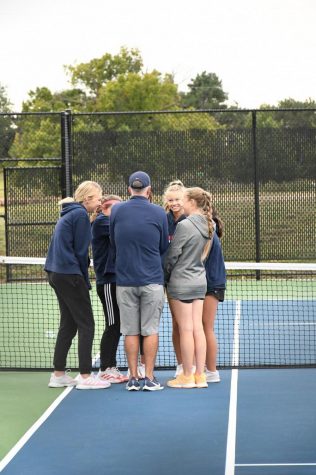 No. 2 singles player junior Maura Wiens lost in the first round, but topped Olathe West 9-6 in the second round. Wiens ended her season with a 2-9 loss in the third round.
The No. 1 doubles team of seniors Ava Bahr and Hannah Loub defeated Olathe Northwest in the first round, but fell to Shawnee Mission East in the second round. The duo bested Hutchinson 9-2 in the third round before losing their final match of the season to Garden City 6-9.
"There was a lot of emotion because we've put so much time into the sport and it was all over just like that," Bahr said. "It was really fun to watch Jillian win State afterwards, so that was definitely a highlight, but it was really hard to be done with a sport that we've spent so much time on together."
According to Loub, the girls were excited to be playing their best tennis by the end of the season.
"We just compete really well together and we've been able to have some good comebacks [this season], so I'm really proud of what we've accomplished," Loub said.
In their State debut, the No. 2 doubles team of juniors Erin Craft and Jessica Zhang lost their first and second matches against Blue Valley Northwest and Lawrence Free State, respectively.
"[Craft and Zhang] had a very tough draw in the first two matches, but they handled it well," head coach Tony Ingram said.
Ingram urged the girls to relax and have fun this weekend.
"I told them to enjoy the moment and the experience of [State], and be confident and happy that they've already accomplished what they've accomplished."
Ingram also acknowledged Bahr and Loub's senior leadership this season.
"After the first day, we talked before we left the courts about how it's not about medals, wins or losses," Ingram said. "The seniors, especially Hannah and Ava, were always taught by some of their predecessors to the program…so they did a great job of leading and teaching what's expected of our tennis program."