Thespians show loss and grief, moving on with 'To Gillian'
The lights begin to fade, the conversation dies down and the curtains open to reveal a small house sitting along the bay.
The Thespians cast performed "To Gillian On Her 37th Birthday" Thursday through Sunday.
The play was double cast, meaning two sets of cast members played the characters on different nights. Seniors Chase Glasscock and Ronan Tanona were David; sophomore Gabrielle Herzog and junior Ariana Hornbeck were David's daughter Rachel, senior Anna Keenan and junior Molly Swistek played Gillian, David's dead wife, juniors Elizabeth Bean and Lesley Sullivan played Gillian's sister Esther, seniors Ryan Ward and Victor Eberle played Esther's husband Paul, junior Olivia Payne and senior Rachael Kovar played the love interest Kevin and sophomores Naomi Eberle and Evangeline Dye played Rachel's friend Cindy.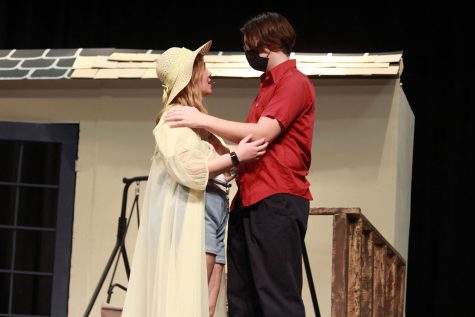 Opening night brings nerves and excitement for the cast. The play is short, which contributed to helping the cast relax and get things together.
"I felt incredibly nervous, but it's a relatively short show, so we were able to kind of put our stuff together and be able to go through everything with relative confidence," Glasscock said. "We had been doing a lot of preparing beforehand, but a lot of circumstances had built up so we were really nervous about opening night, but I feel really good about it now."
There had been a few setbacks that the cast had to push through leading up to the opening night.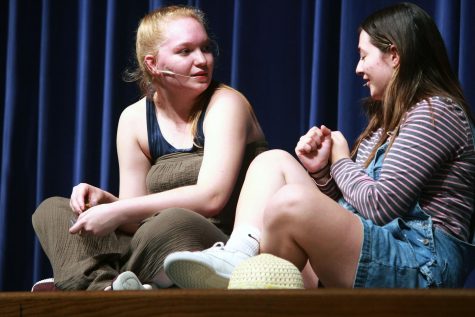 "We did a bunch of rehearsals, but one of our dress rehearsals was cut because our director was hospitalized for a bit, and we still needed to finish the set," Keenan said. "We all pulled it together in the end."
The play introduced new characters that many people haven't played before, providing the cast with a new experience, such as Glasscock playing a neglectful father and Keenan playing a dead woman.
"It was really hard at first. Me and Ronan were like 'Oh we [have] to get into our characters" but it's really hard, picturing one of my fellow classmates as my father figure," Hornbeck said.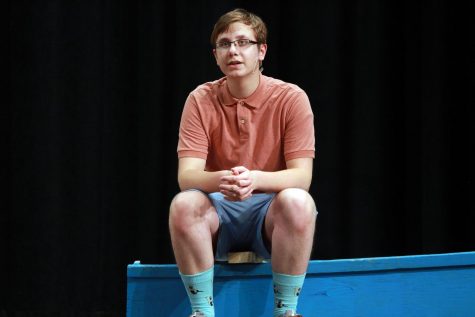 There were many different pieces of the script that would be challenging to memorize, such as the constellations that David listed off near the end of the play.
"I was really bad at those. For about two hours straight, I just went through them. [Walking] around school, just saying them until I got them right, and then I still couldn't get them right," Glasscock said. "But towards the end, it kind of just comes together and you're able to focus on it, so I was able to eventually get it down."
Notable to the show are the behind the scenes crew making it all happen. From lights to sound, props and set, costume and makeup, the members of these crews worked diligently to make it all happen.
"It's a lot of fun, but it's also a lot of work. Techies out a lot into shows, most people don't think about it," junior Danny Montanez, sound crew head, said. "I do enjoy it, it's nice getting to know everyone. It's a really good atmosphere."