MHS student opens graphic design business
Senior Halle Gaul, an obscure, emerging artist with a well-established company and aspirations for future business, works tirelessly every week in first hour graphic design.
"I think my favorite memory was learning the program for the first time and learning how to actually do graphic design because that's when I first fell in love with it," Gaul said.
About three years ago, Gaul began drawing every day. Eventually, she decided to begin taking graphic design classes, which further piqued her interest in the realm of graphic art.
"My freshman year, … I took graphic design for the first time and I ended up really enjoying it and the program that we used, which was Adobe Illustrator," Gaul said, "to the point where I decided to take it again the next year as an independent study, and then again this year."
Gaul finds her inspiration for her drawings and graphics through social platforms like Instagram and Pinterest. Popular television shows and movies also influence her designs. However, according to Gaul, the hardest aspect of graphic design is discovering new ideas and maintaining focus.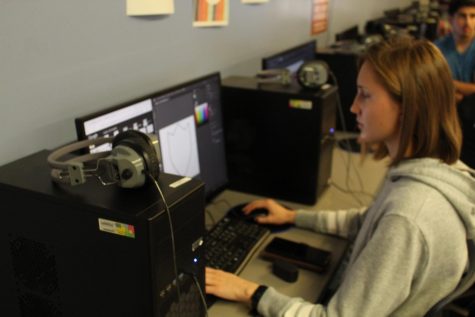 "Oftentimes, the hardest part is finding inspiration and motivation to do things because art can be really difficult and frustrating," Gaul said.
In the past year, Gaul took her graphic design skills to the next level and opened a small business on RedBubble, a platform that allows aspiring artists to apply their designs to clothing, stickers, notebooks and more, all while receiving a percentage of the profits. About every two weeks, Gaul uploads a new design to her profile @onlydreaming.
"I really enjoyed the idea of getting to share my work with other people," Gaul said.
Recently, Gaul has further extended her graphic design skills for the school newspaper, sports and clubs. At the moment, her designs decorate the school newspaper website, www.mhsmentor.com, for each of the fall sports. During the cross country season, Gaul designed numerous graphics and sold several hats and stickers with those designs. Just this past week, Gaul took on a new project for the Adjudicator club at MHS, which involves creating a logo and club T-shirts.
"I think the logos that I did for The Mentor were some of my best designs so far," Gaul said.
This semester, Gaul enrolled in an entrepreneurship class. Through the class, she has furthered her knowledge about business, which she can apply to her business. Gaul plans to exercise her graphic design skill for her final project.
"For my final project, I will be selling shirts in the cafeteria [to raise funds] for [junior] Amelia [Knopp], who was diagnosed with leukemia," Gaul.
Gaul plans to major in graphic design at Kansas State University next fall. Her goal after college is to open her own business, unaffiliated with RedBubble, and expand from there.
"I would look for opportunities to branch out to other bigger companies that are already well established and also do personal requests for people, smaller companies, just people on social media that want something done," Gaul said. "I would try to offer more personal customer service, and I would develop my unique art style that stands out and is recognizable to people."