MHS students go on marketing class trip at KSU
To help entrepreneurship students prepare their business plans and pitches, business teacher Kathy Ricketts jumped on the opportunity to take her students on a field trip to Kansas State University. The purpose of the field trip was to prepare students for their Youth Entrepreneurship Challenge in December.
"[KSU] is where they will present their business plans and pitches to a panel of entrepreneurs in the Manhattan area," Ricketts said.
Students went up to KSU and worked with K-State entrepreneurship students who provided them with constructive feedback on their business plans and pitches.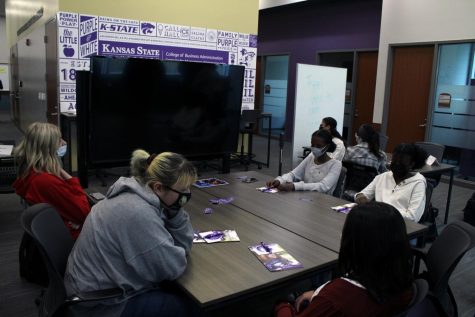 "I've heard from students that they received really good feedback," Ricketts said. "The entrepreneurship students from KSU wrote down comments for them."
The students will now revise their business plans to be better prepared for the YEC. This was the first time K-State offered this opportunity to the entrepreneurship students.
"I didn't know what to expect," Ricketts said. "It was an amazing experience for the students."
The KSU students have already experienced and completed their own launch program. During the trip the students listened to other potential customer opinions on their business.
"Students had 10 minutes with each K-State student and rotated around," Riketts said. "We had two different sections and then the K-State students would write on a piece of purple paper on improvement."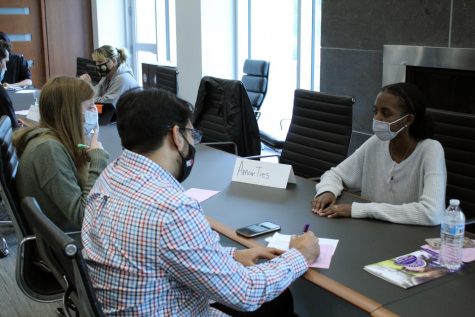 Each of The Manhattan High entrepreneurship students came prepared with a business plan and pitch for their own business ideas.
"My group's pitch was a food truck business where we would sell desert from different parts of the world," junior Melany Busot said.
At the beginning of the trip, MHS students were nervous because they were pitching their business ideas to KSU entrepreneurship students. It was mostly because of pitching the idea to the entrepreneurship students.
"I was very nervous," sophomore Cooper Ackerman said. "I didn't know who I was going to talk to or what we would talk about. My business plan was very delicate and fragile and I was hoping to grow it."
During the trip the KSU entrepreneurship students gave students better financial statements and found data to help them prepare their business plan for the YEC.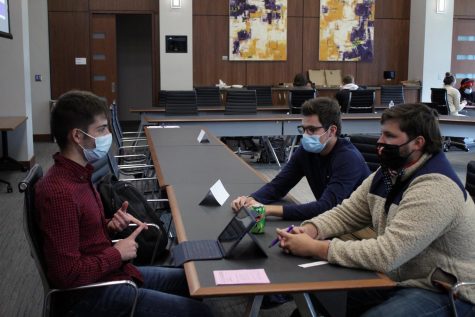 "Overall it was a great experience for getting in the right mindset," Ackerman said. "I got to see the college, meet people and feel more confident about my business plan."
MHS students liked hearing positive and negative feedback because it was more of a discussion rather than an assessment.
"I was very comfortable with the feedback," Busot said. "They were coming from a place with more experience and knowledge. I felt humbled."
Throughout the day pitches felt more familiar and the day felt less nerve-racking. While students did miss their second hour on Wednesday, they still had a good time.
"It was probably one of the best learning experiences and collaborations that we've done with K-State college students and MHS students." Ricketts said.