Boys basketball punches ticket to State
For the first time since the 2020 season, Manhattan High boys basketball is heading back to the State tournament. Manhattan entered as the 13 seed, before beating (4) Wichita Northwest, and (5) Derby in back-to-back games on the road.
The Indians and Panthers went back and forth for the majority of the first half of their game on Friday. At first Manhattan struggled to break Derby's press break that they've been known to run all season long.
"We worked on a lot of ball pressure and just being fundamentally sound with the ball," junior Cole Coonrod said. "Not forcing any passes and two hands on the ball, just being really very fundamentally sound."
Neither team led by more than five in the first half. At the half Manhattan trailed by three, 25-28. Then Manhattan High exploded offensively. At the end of the third quarter Manhattan led by seven. Manhattan's confidence was a large reason for success late in Saturday's game.
"It's pretty high. You know, beating Northwest coming back from 19 and then basically dominating Derby all game. Confidence is pretty high," senior Cade Perkins said. "So we were just knocking down shots late down the stretch."
When it was all said and done Manhattan defeated Derby by 16, their second largest win margin of the season. The final score was 61-45.
Manhattan's 16-point win featured many runs. In the final 12 minutes of the game Manhattan outscored Derby 34-8, and outscored them 36-17 in the second half.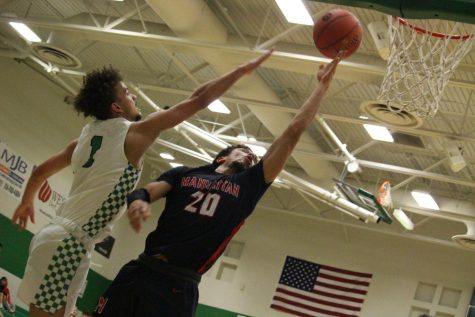 Now Manhattan will switch its focus to Lawrence Free State (21-1), who defeated Hutchinson and Wichita East in its opening rounds of Sub-State.
"Yes, it's going to be very tough but it's not impossible," Coonrod said. "It'll be a new gym they haven't played in yet. Just a new environment. It'll be fun to play in."
However, Manhattan looks forward to the challenge of taking on the first seeded Firebirds.
"It's going to be difficult but we've been the underdogs for the past few weeks," Perkins said. "And we're going to stay that way and hopefully we can come out on top."
(8) Manhattan will take on (1) Lawrence Free State at 2 p.m. on Thursday at Koch Arena in Wichita.