Soccer rolls against JC, falls to Seaman, Blue Valley West
The Manhattan High Ladies Soccer team kicked off their 2022 campaign this past week against Seaman, Junction City and Blue Valley West, winning 1 out of 3 games.
Last Tuesday, MHS fell to Seaman in a closely contested matchup. In a game that was heavily dictated by the wind, the Indians and Vikings ended regulation tied 1-1. Overtime was more of the same until Seaman forward Jaycee Schumann found the back of the net in the second period of overtime, sealing the game for Seaman.
"We came out with a lot of nerves for this game," head coach Mike Sanchez said. "We just came out a little too nervous … I don't think that we took advantage of the wind in the second half than we probably could have."
However, Manhattan bounced back two days later, thrashing Junction City 10-0 in a mercy rule. Sophomore midfielder and forward Emery Ruliffson led the charge, scoring three goals. Freshman midfielder Jada Dibbini and sophomore forward Grace Geisbrecht also scored 2 goals each.
"We were as a team a little bit more motivated to connect our passes," Sanchez said. "Having played Tuesday's game and not doing such a good job at it … that [connecting passes] was really a focus for our team."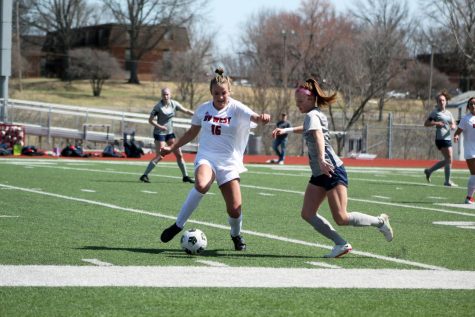 A matchup against 6-A soccer juggernaut Blue Valley West concluded the three game home stand for the Lady Indians. BVW, the current class 6-A state champion, dominated MHS from the get-go.
"I always know they [BVW] are gonna be very athletic and very talented," Sanchez said. "So for us, a lot of it is being organized to account for some mismatches in certain areas."
Despite the physical disadvantage, sublime goalkeeping from junior Taylor McHugh kept MHS in the game, with the Lady Indians only down 1-0 at the break. Although briefly gaining momentum near the end of the first half, the Jaguars' aggressive attack continued into the second half. The constant pressure by BVW allowed them to score four goals in the second half, putting the game out of reach for the Lady Indians.
"From an overall soccer perspective they are a good team," Sanchez said. "We try to make the most of everything and in the first half for about 10 minutes we had a good run."
Additionally, MHS was without two starters, senior defender Chloe Porter and junior midfielder and forward Reese Snowden, both out due to injury.
"We need to get healthy," Sanchez said. "Other girls have definitely stepped up … but I think we are getting in our groove and we will hit our stride."
MHS will face Topeka West Tuesday at Hummer Sports Park.