MHS Forensics gets three national qualifiers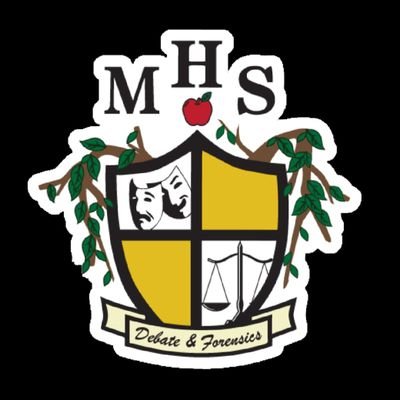 The Manhattan High forensics team had three individuals qualify for the National tournament and another person qualifying for the State tournament this weekend. The team competed in three tournaments
"It was a pretty chill, fun, just Saturday tournament," sophomore Allie Cloyd said. "[A] fun one for the team. It was also cool to compete in a place that I've also… debated at for the debate tournament that we competed at there earlier this season."
Cloyd took second in Poetry and qualified for State at the USD 345 tournament.
"I was happy and relieved to get the State qualification," Cloyd said.
Cloyd has been unable to attend tournaments often due to her participation in Poetry Out Loud.
"I haven't been able to go to as many tournaments because of Poetry Out Loud," Cloyd said, "so [that] the National submission for that [is done], I was able to like come back and have fun and go out on a forensics weekend."
Sophomore Yazan Mufti placed third in International Extemporaneous Speaking. Senior Carlos Aparicio placed sixth in Dramatic Interpretation. Freshmen Hayden Platt and Samuel Ross placed fourth in Duo Interpretation. Junior Kino Otsuki placed third in Prose. Junior Brady Chua took sixth in Original Oratory. Freshmen Patrick Fu and Jamen Trojcak qualified for the NSDA National Tournament while competing at the Congress National Qualifier.
"It was a lot of fun," senior Tristian Metivier said. "[It was] definitely a learning experience."
Senior Sam DeLong placed first in International Extemporaneous Speaking at the Wichita Collegiate tournament. DeLong is nationally qualified to the National Individual Events Tournament of Champions.
"I'm glad that I [get] to go and have fun at the State tournament, it's always, it's just a cool experience," Cloyd said.
Forensics will meet next at Wichita East High.