BSU hosts 7th annual poetry slam
The Manhattan High Black Student Union hosted their 7th annual poetry slam with the theme "Use Your Voice/ Youth Speaks" on Friday.
"[The poetry slam]'s literally all of us coming together as one to share a great art and poetry and song and music and all dance and just having a great time together," BSU vice president Ronald Hill, senior, said.
Getting submissions and help for the Poetry Slam proved to be difficult this year.
"This year, we kind of had to [say] like 'hey, we need help,' like really say we need help from other people and from the group as well," BSU president junior Nyah Evans-Pryor said.
The winners of the poetry slam were junior Garon Wright with first place, senior Maverick Aggson with second place and senior Ashi Wickramasundara with third place. Teachers Kane Davis, Jack Dotterweich, Kent Hildebrand, Devra Harden, Darren McCoy, Mary Kris Roberson and Rebekah Thornton-Savage judged the event.
"I was not expecting the outcome [not] even a little bit," Wright said. "I'm just kind of in shock, I guess, from all of it."
Wright, who read about his mental health experience, was not planning on joining until asked by a friend.
"I was thinking about writing a poem before, and then I backed out," Wright said. "And last minute, my friend told me they [needed] more poets, so I decided to [join]."
The poetry slam, along with poems, contained skits in between, following the theme of advertisements. During those segments, junior Bepeh Amama stood in the corner holding cards that would count down to the big "Skip Ad" sign. Evans-Pryor would tap the sign to transition into the next poem at the end of the skit.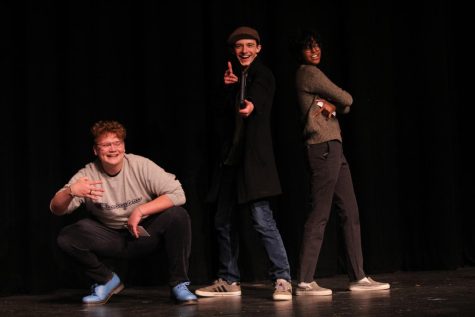 "We really took things into our own hands and… made the poetry slam our own, what we wanted and things of that nature and also advertisement," Hill said. "We want to make that a big thing you know, want everyone to come so we really just made it our own."