Track boys 3rd, girls 9th at LFS barriers meet
Kris Long, Print Editor-in-Chief
April 26, 2022
Boys track took third and girls placed ninth out of 23 schools at the competitive Lawrence Free State barriers meet on Friday. The meet had an atypical scoring method, with athletes earning medals based on braking speed or distance barriers rather than beating their opponents. The team had 33 athletes earn a medal and nine individuals or relays place traditionally.
"It was a 23 team meet with a lot of Kansas City area schools that we haven't seen yet," head coach Kory Kool said. "When you look at past results from the state meet over the past five to 10 years, typically, seven or eight of the top 10 teams in the state come from the Kansas City area… So it was important for us to just get out there and see different competition."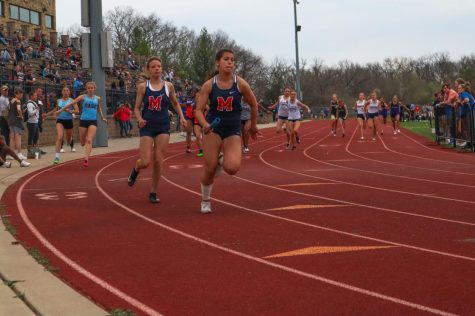 On the girls side, freshman Hanna Pellant won the 100 meter with a time of 12.10 and was runner-up in the 200. Sophomore Gili Johnson won the 400 meter running a 59.24 and junior Abigail Gruber won the long jump with a distance of 108 meters. Two girls relays — the 4×100 and the 4×800 — both took third.
The boys had fewer athletes place traditionally than the girls, but more break the set barrier times, meaning they placed comparatively higher in the meet. They had no individual first place athletes but the 4×800 — run by seniors Ben Moiser, Baptiste Lacroix and Max Bowyer as well as sophomore Ethan Bryant — took first and the 4×100 placed second.
"The 4×800 has continued to do well, I think they're having fun with that. It's a good way to open up the meet," Kool said. "Also the 4x400s keep getting better and we keep mixing up the teams a little bit, it's a fun way to close out to meet. So I think it's a big push to keep those relay teams being successful, because starting a meet on the right foot and ending a meet on the right foot is fun and exciting."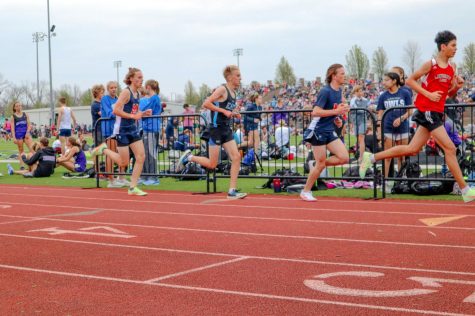 The Varsity team will compete at Seaman next Friday.
"It's similar to the schools we saw [at Lawrence] that we hadn't seen yet this season, it's going to be a 24 school meet," Kool said. "Last year, we were able to finally win it. And it's … a month before state so it gives us a good gauge of what we need to improve on over the next 30 days."